Edge of the City
(1957)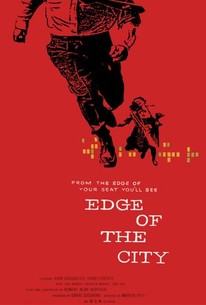 AUDIENCE SCORE
Critic Consensus: No consensus yet.
Movie Info
Edge of the City is a modern morality play, acted out in the railyards of New York. AWOL soldier John Cassavetes takes a job as a railroad worker, where he is taunted and bullied by supervisor Jack Warden, a union functionary appointed by the Mob. Cassavetes befriends his African-American co-worker Sydney Poitier, whose very presence enrages the bigoted Warden. Poitier dies in an "accident" arranged by Warden; Cassavetes knows the truth, but is frightened into silence by the corrupt union. Inspired by Poitier's widow to stand up for what is right, Cassavetes challenges Warden in a climactic one-on-one battle. Edge of the City was produced by David Susskind, who'd previously staged Robert Alan Aurthur's screenplay for television under its original title, A Man is Ten Feet Tall.
Critic Reviews for Edge of the City
All Critics (1) | Fresh (1) | Rotten (0)
Martin Ritt's impressive feature directing debut is a socially conscious drama, about union corruption, interracial integration, and moral integrity, well acted by John Cassavetes and Sidney Poitier.
Audience Reviews for Edge of the City
½
In "Edge of the City," Axel(John Cassavetes) moves from city to city. In New York City, he finds work as a stevedore on the docks by dropping Charles Malik's(Jack Warden) name to the boss. In return, Malik requests a piece of Axel's wages. By comparison, Tommy(Sidney Poitier) befriends Axel and gives him some leads on an apartment in Harlem. Tommy even goes so far as to invite Axel to join his crew. "Edge of the City" is a movie about racism. How it handles the topic so well is by hardly mentioning it and instead finding creative ways to provoke the less enlightened audience of 1957. First is by introducing Sidney Poitier off-screen, so the audience hears his voice before seeing him for the first time. Then, Poitier is paired first with Kathleen Maguire, who is not black, before showing him with Ruby Dee. And you have to remember that this was, as a character put it, at a time when it is smart to be patriotic. Otherwise, Sidney Poitier, John Cassavetes and Jack Warden all play off each other well in this movie that favors actions over words. But even though "Edge of the City" starts decently enough, and makes its point well in the end, the dramatic tension does fall off somewhat in the second act. And Axel has one too many secrets for comfort.
½
While not a bad movie, you could tell it was trying to cop from On the Waterfront a bit. Poitier's character is impossible but it all somehow works.
Michael Gildea
Super Reviewer
Edge of the City Quotes
There are no approved quotes yet for this movie.