The Dying Gaul
(2005)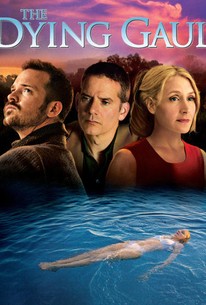 Movie Info
An artist who compromises his work for money finds his heart and soul are also being toyed with by his new patrons in this drama. Robert (Peter Sarsgaard) is a playwright who has recently lost his longtime lover and business partner, Malcolm (Bill Camp), to AIDS-related illnesses. Robert has written a screenplay about their relationship, called "The Dying Gaul," and is interested in selling the project to powerful producer Jeffrey (Campbell Scott). However, while Jeffrey likes the script, he tells Robert that he's not about to spend money on a film about a gay couple -- though he'll give him one million dollars for the screenplay under the condition he turns the character of "Maurice" into a woman so the film will be easier to sell. While Robert is secretly appalled by the idea, he's also deep in debt and wants the film to be made, so he agrees to make the changes. Robert is soon invited into the inner circle of Jeffrey and his wife, Elaine (Patricia Clarkson), herself a talented screenwriter until their marriage put an end to her career. Jeffrey finds himself fascinated by Robert, and soon begins seducing him both physically and intellectually, while Elaine is also deeply attracted to him. As Robert and Elaine become close friends, she also begins pursuing him in on-line chat rooms, playing on his emotional weaknesses as she fashions a story of her own. The Dying Gaul was the first directorial credit for playwright and screenwriter Craig Lucas.
Critic Reviews for The Dying Gaul
Audience Reviews for The Dying Gaul
Awesome film. The obsession and flawed characters are frightening!
Christian C
Super Reviewer
Simply simply gorgeous gorgeous movie about well, the usual - love, lust, betrayal, integrity, Buddhist philosophy, dead lovers communicating through the internet, murder by horticulture. You know, the usual. It's also, of course, a subtle and snide satire on the movie industry, a passionate treatise on sexuality and sexual orientation, as well as a showcase of jaw-droppingly moving performances. Sarsgaard and Scott are completely un-self-conscious in their sex scenes. I feel bad giving it 4 stars because it was 5 for most of the way through, but the lack of closure on the ending really doesn't sit well with me. The alternate cut suffices, save for the out-of-place voice-over.
Alice Shen
Super Reviewer
The Dying Gaul Quotes
There are no approved quotes yet for this movie.