Dying Breed
(2009)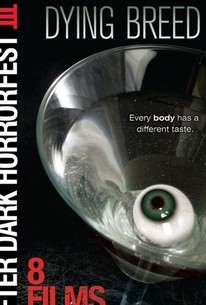 Movie Info
The noble search for a dying breed leads an ambitious zoologist to the discovery of a far more sinister species in this brutal Australian shocker featuring Leigh Whannell (Saw) and Nathan Phillips (Wolf Creek). Eight years ago, Zoology student Nina (Mirrah Foulkes)'s sister was searching for evidence of the elusive Tasmanian Tiger when she suddenly vanished without a trace. Before disappearing, however, she did manage to send her sister a mysterious paw print that seemed to suggest that the species was still flourishing somewhere in the vast Australian wilderness. Much like the Sasquatch, the Tasmanian Tiger is a creature that modern scientists have dismissed as legend - but now that Nina has evidence, she's fully prepared to breach Tasmania's dense and dangerous forests in order to prove that the reclusive creature really exists. As Nina, her partner Matt (Whannell), his old friend Jack (Phillips), and his girlfriend Rebecca (Melanie Vallejo) make their way deep into the heart of Tasmania, it quickly becomes obvious that Nina is completely ignorant to one of the isolated island's darkest legends. Back in the 19th Century, when Australia was a barren penal colony, a dangerous convict named Alexander Pierce (aka "The Pieman"), staged a daring escape from the island's most heavily guarded prison. Later, in order to survive, Pierce resorted to eating his fellow escapees. Though Pierce would be hung for cannibalism in 1824, by the time he was captured it was already too late. Pierce had bred, passing on his insatiable appetite for human flesh the next generation. Nearly two centuries later the Tasmanian Tiger seems to have finally become extinct, though the Pieman's lineage is still going strong. Now, in a land where human meat is scarce, Nina's expedition will fall prey to species with a savage appetite, and a murderous motivation to keep their bloodline strong.
Critic Reviews for Dying Breed
Audience Reviews for Dying Breed
½
Enough with these Australian outback cannibal stories. Sheesh..
Cynthia S.
Super Reviewer
Middling film with semi-tolerable characters doing various stupid things. There are hints of a better, more interesting film occasionally, but it never fully develops.
½
I decided to watch this movie because I saw Leigh Whannell was in it. I'm glad he's still alive, I was sad after I watched Saw. The movie definitely wasn't as bad as some of the FearNet movies I've seen. I did have some problems with it though, like the amount of unnecessary characters. Only a handful of characters seemed important and contributed something to the plot. I wasn't really feeling the plot either. I was more interested in the sister's story to be honest. She seemed like she went through hell, and it looked awesome. Sadly, there was not too much focus on that part, only the occasional flashbacks. I think if the sister's story had been the main plot, the movie would've been more enjoyable. ....I liked the twist. I didn't see that coming. It was a pretty okay movie. I actually watched the whole thing and didn't fall asleep. That says something.
Dying Breed Quotes
There are no approved quotes yet for this movie.