Dutch
(1991)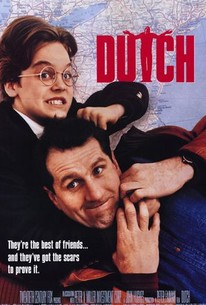 Movie Info
In this John Hughes film, spoiled, self-centered Doyle (Ethan Randall) is traveling home from his classy prep school to spend Thanksgiving with his mother, Natalie (JoBeth Williams), in Chicago. However, when his mother's unsophisticated boyfriend, Dutch (Ed O'Neill), arrives to ferry him home, the two develop an intense hatred of one another that they must work out on the long drive to Chicago.
News & Interviews for Dutch
Audience Reviews for Dutch
½
Written by teen flick supreme John Hughes and you can tell, all the way through is that classic light hearted soft whimsical humour that is a joy to watch. Much like 'Planes Trains and Automobiles' the plot is basically a road movie with two characters that simply don't match or get along, this time a blue collar worker Ed O' Neil and a snobby spoilt rich kid Ethan Embry. O'Neil has the simple task of transporting his girl friends bratty kid from his rich school in Georgia to the family home in Chicago for Thanksgiving. As you can imagine this brings up much craziness from Ed 'Al Bundy' O' Neil as he tries to bond with the kid along the way. Sure its predictable and the humour is basic, not up to the standard of Candy and Martin, but its very sweet and heart warming as you would expect with a cracking blues/jazz/soul soundtrack. Never did well upon release probably due to the not so big names involved and the fact its not that funny to be honest also Embry is a really annoying little shit haha. More lessons in life in this road movie than 'Planes Trains' which is fine but slightly cumbersome, still has that lovely cold wintry festive feeling that Hughes always manages to create which is prefect for curling up on the couch with nothing else to do on a frosty afternoon.
Phil Hubbs
Super Reviewer
½
Ed is completely hilarious in this movie. I was laughing all the time. Very cute...
Leigh Ryan
Super Reviewer
½
Great interactions between Ed O'Neill and Rusty from Vegas Vacation but the plot is somewhat lackluster, empty. John Hughes screenwriting ability was starting to fade at this point and he ventured off into primarily writing children's comedies.
Lenny Muggsy
Super Reviewer
Dutch Quotes
There are no approved quotes yet for this movie.