The Dust Factory
(2004)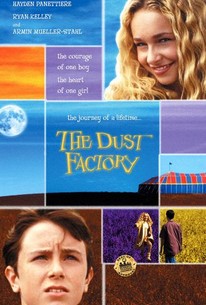 Movie Info
An adventure tale about the love and friendship between two teenagers who help each other through a difficult time in their lives. Ryan Flynn is a wondrous young boy who hasn't spoken since witnessing his father's death at the age of nine. Now thirteen, Ryan has a near fatal accident when he falls from a bridge and is magically transported to a fantasy realm known as The Dust Factory (a place that mirrors his fear of mortality). In this strange yet familiar world, Ryan meets Melanie, a precocious young beauty, who steals his heart. Together they embark on a journey where they face their fears and develop a friendship built on trust and love. Ultimately, Ryan faces the challenge of finding his way home.
Critic Reviews for The Dust Factory
Audience Reviews for The Dust Factory
½
Two charming kids and the boy's grandfather spend time in limbo between life and death. It is a strange fantasy world that seems free of trouble except for a creepy circus, which is named the dust factory. The youngsters amidst falling for each other are forced to confront some philosophy about life and death, pleasure and pain. Some of it is thought-provoking. Many of the special effects suggest a fantasy world I've never seen before in a movie, but it is obvious the effects had a low budget. Artistically it seemed the writer/director thought they were being clever dealing with these deep issues, but I was uncomfortable with the death themed circus and many of the grandfather's lessons were nonsensical.
Byron Brubaker
Super Reviewer
The Dust Factory Quotes
There are no approved quotes yet for this movie.