The Dunwich Horror
(1970)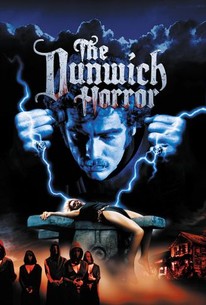 The Dunwich Horror Photos
Movie Info
Nancy Walker (Sandra Dee) is the virginal coed at a California university slated to mate with the devil himself. Wilbur Whateley (Dean Stockwell) is the son of the devil who recruits the unknowing Nancy for the Satanic ritual. Sam Jaffe is his addled relative, and Ed Begley plays the college dean Dr. Armitage. This mystery is taken from the novel by H.P. Lovecraft. Wilber's invisible supernatural brother devours a helpless damsel (Donna Baccala), a victim of her own curiosity in this unspectacular horror film.
Critic Reviews for The Dunwich Horror
All Critics (6) | Fresh (1) | Rotten (5) | DVD (1)
The animated opening credits sequence is the best part of a leadenly paced picture that grows less gripping as it moseys along.
Pretty much botched Lovecraft adaptation.
August 21, 2003 | Rating: 2/5
The film should be more interesting for Lovecraft fans than to the general audience.
Audience Reviews for The Dunwich Horror
Lackluster adaptation of Lovecraft's creepy ook-from-another-dimension forte with Stockwell staring intently quite a bit and Dee (!) trying to leave the beach behind her. More interesting to see what the cast was willing to do for a buck, but that don't last long.
Kevin M. Williams
Super Reviewer
I know I saw this movie, but I can't recall it at all, I need to see it again.
Based on a short story written by H.P. Lovecraft. Like a few of the Stephen King Movies, a good writer's movies don't always come out at there best when put on screen. That?s what we have here. Dean Stockwell plays the young and intesive Wilbur, who seems to capture young weak women through his stare. Sandra Dee plays the young Nancy, who Wilbur uses as his doll to Satin. Also in the cast was Talia Coppola (actually Francis Ford?s sister) before she married, became Talia Shire who played Rocky's girlfriend in the Sylvester Stallone?s Movies (Adriiana). All in all its nothing more then the second feature of a Drive Inn Movie, where you get so disgusted you turn on the headlights which hit the screen, everyone blows there horn and you pull away with the speaker still connected to the window. Nothing more then 3 stars here
Bruce Bruce
Super Reviewer
The Dunwich Horror Quotes
There are no approved quotes yet for this movie.