The Dungeon Masters
(2008)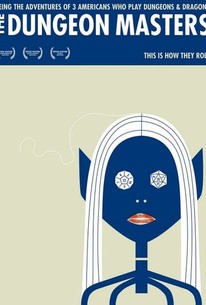 The Dungeon Masters Photos
Movie Info
You're Gonna Miss Me director Keven McAlester shifts his focus from the troubled mind of a rock 'n' roll legend to the frail psyche of the American middle-class by exploring the lives of three devoted Dungeons and Dragons enthusiasts who find the harsh realities of life impeding on their rich worlds of fantasy. Aspiring novelist Scott possesses a sharp wit and an active imagination. But when Scott's writing career fails to pay off, the strain of supporting his family finds him retreating into a land of orks and elementals. Meanwhile, divorced twenty-three year old Elizabeth searches for a companion who can accept her penchant for dressing up like a dark elf, and enthusiastic RBG addict Richard reaches out to the stepson he previously left behind.
Critic Reviews for The Dungeon Masters
Audience Reviews for The Dungeon Masters
½
A very interesting premise comes to nothing in this lacklustre documentary. The film makers picked a bunch of people who are into pen&paper roleplaying (Dungeons & Dragons and the like) and take a swift and superficial glimpse into their gaming habits and lives. Unfortunately, there is no thread to follow, no tangible connection between the non-gamer part of the subjects' lives and their gaming. The film does educate or document but simple shows a few random moments out of the lives of random people. That they happen to play RPGs in their free time does not really matter or tie in with anything else in their lives. I can see that the the film maker wanted to make an off-beat portray of weirdos but I find that utterly uninteresting. Why, for example did he not include completely "normal" and "socialised" people to portray as well ? No, it had to be lonely, socially Packard and bizarre people. Another uninteresting post-Moore documentary which tries to hard to be "weird" instead of being truly interested in its subject.
Henrik Schunk
Super Reviewer
The Dungeon Masters Quotes
There are no approved quotes yet for this movie.