Duma
(2005)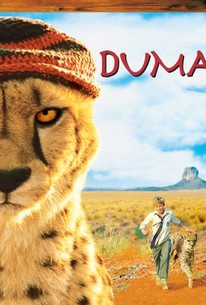 Movie Info
When 10-old Xan and his father Peter come across an orphaned cheetah cub, they name their new friend "Duma," the Swahili name for cheetah, and he quickly becomes a member of the family. But, when Duma is almost fully grown, to Xan's dismay, his father tells him that it's time to take his friend to his real home before he grows too old to survive in his native habitat. Xan reluctantly agrees, but their plans must be put on hold when his father suddenly falls ill and Xan and his mother must move to Johannesburg. When Duma escapes and pays a disastrous visit to Xan's school, the two of them must flee the city to keep Duma from being put into captivity. Not knowing where to go, Xan gets an idea -- he'll carry out the plan his dad had outlined, taking Duma home to a safe and lush place hundreds of miles across South Africa, over the scorching Makgadikgadi Salt Pans, through the Okavango Delta and into the Erongo Mountains. Entering the lush jungles of the Okavango Delta, Xan finds himself surrounded by danger -- lions, crocodiles and deadly poisonous creatures. But it's far too late to turn back now as Xan faces the true test of love, attempting to cross the wilds to return his best friend to his rightful home.
News & Interviews for Duma
Audience Reviews for Duma
This hugely emotional film is perfect. It has an absolutely beautiful atmosphere and is rich with beautiful scenery, cinematography and acting talents crossed with strong, heartwarming and absolutely cherishable emotional depth. It has some of the best child acting i've ever seen in the history of my time deeply involved in my interest of films and is a modern classic that flows smoothly with a perfect script variety of darkness, brightness, humour and scares. But most amazingly for a film of the newest generation, Duma has a classic feel to it and is not afraid to be to smart for its own good.
Directors Cat
Super Reviewer
½
FANTASTIC! Why don't more people love this movie? Wonderfully done, brilliant soundtrack, beautiful story, superb acting... So freakin' AMAZING! Everyone should see this cute little film.
Leigh Ryan
Super Reviewer
it was ok not great but ok
Film Crazy
Super Reviewer
Duma Quotes
There are no approved quotes yet for this movie.