Drums Along the Mohawk
(1939)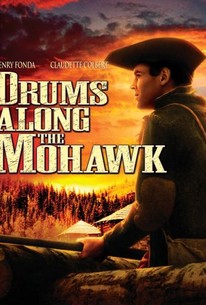 Drums Along the Mohawk Photos
Movie Info
John Ford directed this outdoor adventure set in the American Colonial period. Gilbert and Lana Martin (Henry Fonda and Claudette Colbert) are a young couple trying to make a home in New York State's Mohawk Valley, but repeated attacks by Indians drive them, along with other settlers in the valley, into a nearby fort, where they watch helplessly as the natives lay waste to their farms and cabins. A spinster with a large farm, Sarah McKlennar (Edna May Oliver), comes to their rescue when she hires Gilbert to work as a field hand and gives the Martins a place to stay. The rugged life of the farm and frontier doesn't always sit well with Lana, who was raised in wealthy and comfortable circumstances; in time she develops a thicker skin and learns to love their new life in the Mohawk Valley, especially after giving birth to their first son. Gilbert joins the militia, who must do battle both with the local Indian tribes and the British soldiers who are provoking them to battle. Gilbert returns wounded, and as he recuperates, a healthy crop rises in the fields, but their satisfaction is short lived when the Indians once again hit the warpath. 1939 was a stellar year for John Ford; along with this highly successful adventure tale, which was nominated for three Academy Awards, Ford also released the ground-breaking western Stagecoach.
Critic Reviews for Drums Along the Mohawk
Audience Reviews for Drums Along the Mohawk
full of stereotypes, especially the description of indians as ape-like barbarians or christianity-converted dim-witts. i watched it just because i was curious how claudette colbert looks in color movies, and her costumes are sorta plain without the genius touch of paramout's travis banton, not doing colbert justice. henry fonda feels lacklusterly awkward with his un-becoming pig-tail. the reason i could be able to abscent-mindedly finish viewing it is its striking photography of inland wilderness, and how soothingly wide the blue sky is rendered along with limitlessly grand pastures, cliffy hills and the massive forests of tall pines(who knows what kind of tree is that..)..it manifests the aloof charm of primitive inland america despite the people in it weren't (portrayed) half as charming as its breath-taking landscapes. i would certainly watch it again to doze off while gazing at those striking views of celluloid nature.
Veronique Kwak
Super Reviewer
Admittedly not Ford's best, not even his best in 1939 but Drums Along the Mohawk is still one of the better movies about the American Revolution and it contains some of Ford's most beautiful compositions.
Bob Stinson
Super Reviewer
It would have been emotionally uplifting at the time it was released, but it doesn't hold up today.
Edward Boxler
Super Reviewer
Drums Along the Mohawk Quotes
There are no approved quotes yet for this movie.