Drop Dead Gorgeous
(1999)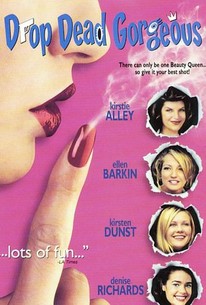 Drop Dead Gorgeous Photos
Movie Info
The local boosters of Mount Rose, Minnesota proudly invites you to watch as their annual celebration of civic pride, wholesome achievement, teenage innocence and spirited camaraderie all go up in hilarious flames over the course of one vicious, nasty, back-stabbing beauty contest. A wickedly colorful, twisted comedy, Drop Dead Gorgeous probes the heart of a small Minnesota town where a teen beauty pageant has unleashed a fury of very unladylike behavior. Here in the hallowed American heartland -- amidst the cow fields, pork sausage factories and Lutheran churches, going after the tiara is not just a fairy-tale dream: it's all-out war. Everyone involved in the contest - mothers, daughters, boyfriends, perverts - knows only one thing counts and it isn't talent, physical fitness, current events or sportsmanship. It's being Number One, "yah, you betcha!" Because in Mount Rose, you win any way you can . . . or you die trying.
News & Interviews for Drop Dead Gorgeous
Critic Reviews for Drop Dead Gorgeous
Audience Reviews for Drop Dead Gorgeous
It was pretty funny. And Brittany Murphy was just great
Martin Sahlin
Super Reviewer
½
I had very low expections for this film. In fact, the only reason I watched it was because this is Amy Adams' debut film. However, this film was quite enjoyable. It's hilarious and I love the mockumentary style of it. The humor is so great, too. I also loved seeing all the young stars in this film....Kirsten Dunst, Brittany Murphy, Amy Adams. They all give strong, memorable, and funny performances. Amy Adams and Brittany Murphy are so awesome here. I love them! Not one of the funniest comedies I've seen, but it is still a genuine laugh. Definitely one of my favorites that I have watched in the past weeks. I recommend it!
Jameson Worley
Super Reviewer
This is a great comedy with great actresses including Kirsten Dunst, Amy Adams, and Sally Field.
Spencer S.
Super Reviewer
Drop Dead Gorgeous Quotes
There are no approved quotes yet for this movie.