Drive Me Crazy
(1999)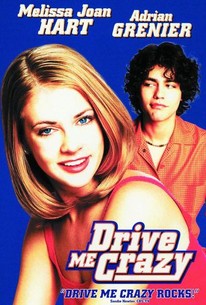 Movie Info
Nicole and Chase live next door to each other ' and that's about all they have in common. Nicole is up on the latest fashions; Chase, on the newest protest. She wouldn't miss a pep rally or basketball game; he can usually be found moping in some darkened coffee house. But to navigate the land mines of high school love, they must reluctantly join forces. And in the midst of a gala centennial celebration, Nicole and Chase find that the one they always wanted was closer than they ever realized.
Critic Reviews for Drive Me Crazy
Audience Reviews for Drive Me Crazy
Yeah, I was a Sabrina fan. So sue me, I like this. Melissa isn't a great actress, but she was cute in her day and had a nice girl next door presence. It's a shame she does nothing but pop out babies these days, I quite liked her movies. This is similar in vein to other 90's teen movies like Never been Kissed. Of course it's all been done before, but it's sweet. Has some other minor stars like Ali Larter in it as well.
Nicki Marie
Super Reviewer
I loved Hart as Sabrina on the TV show in the 90s, but this movie was just horrible. The plot has been done before, it's incredibly predictable, and there weren't any other good actors in this. I don't remember anything good about this movie.
Pre-Entourage Adrian Grenier.....cute!! so is this movie.
Cynthia S.
Super Reviewer
Drive Me Crazy Quotes
There are no approved quotes yet for this movie.