Drive Angry
(2011)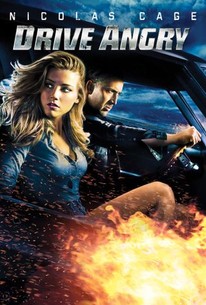 TOMATOMETER
AUDIENCE SCORE
Critic Consensus: It may deliver the over-the-top action pieces, but Drive Angry prefers to work safely within grindhouse formula than do something truly unique.
Movie Info
Nicolas Cage headlines this high-octane thriller as Milton, a hard-case felon who breaks out of Hell to prevent the cult that murdered his daughter from sacrificing his infant granddaughter to Satan on the night of the full moon. With just three days to go before the ritual killing, Milton crosses paths with knockout waitress Piper (Amber Heard), who steals her cheating ex-boyfriend's vintage Charger and joins him on his quest to save the Earth from the forces of darkness. With Piper's help and a mean set of wheels to keep them moving, they may have a shot at taking down diabolical cult leader Jonah King (Billy Burke) before he achieves his malevolent goal. But should Jonah get the opportunity to make his dark sacrifice, he will become the most powerful man alive and all of humanity will suffer. Unfortunately for Milton, the cops are quickly closing in, and the Devil's determined minion, "The Accountant" (William Fichtner), will stop at nothing to drag him back down to Hell. With each passing minute, Milton's last shot at redemption is fading, and the fate of the entire world inches ever closer to infernal darkness. ~ Jason Buchanan, Rovi
News & Interviews for Drive Angry
Critic Reviews for Drive Angry
Audience Reviews for Drive Angry
MisterYoda ?
Super Reviewer
½
"Give me one good reason I shouldn't shoot you in the face." "I'm Driving." So goes the dialogue in this damn fine entertaining movie. Drive Angry is completely over the top, one of the few newer Nicholas Cage films I like. He's at his dead-pan best here as an escapee from hell. This is a ramapge of redemption, a sweet and salty southern receipe made delicious by its glorious excess. If you liked Ghost Rider, which I didn't, this is a lot better. Its a hellacious beat-down (pun intended). Amber Heard is too sexy to be believed and a complete bad-ass to boot. I also love the way Fichter's and Cage's characters interact. I'm not sure the original John Milton would approve of the hell-on-earth story, but its worth the price of admission. How can anycritic claim this film is tedious? Its ridiculous and absurd yet entertaining as neo-grindhouse is intended.
Clintus Maximus
Super Reviewer
½
[img]http://images.rottentomatoes.com/images/user/icons/icon13.gif[/img] The only positive aspect of Drive Angry is the engaging supporting performance of William Fichtner's, but other than that, this is nothing other than totally repulsive garbage. I think it's safe to say that we've all got used to the idea of Nic Cage appearing in trash like this, and we've accepted it because sometimes it's the only redeeming feature of the ridiculously film's he appears in. But I will say there were only two reasons I kept watching the film, because it is so badly plotted, so predictable and so stupid, and it was simply to ponder at the mystery as to why Nic Cage took the role in it, and to see if it would turn out as catastrophic as Death Proof. Other than that, there is no reason to see this movie. It's nothing you haven't seen before even if your looking for trashy exploitation. Firstly it's narrative is incredibly laughable and has no charm whatsoever, and it's attitude towards women is appauling. The action sequences are somehow unbelievably dull, even despite the fact it bombards you with set piece after set piece and extreme amounts of repetitive explosions. So aside from the fact that it's directed badly, acted terribly and has a script that appears to have been written by an adolescent 12 year old. It also features an annoying array of unrealistic characters, an inconsequential narrative and doesn't even work on the lowest common denominator action B movie thriller level. It's a less self-indulgent grindhouse movie than Death Proof, but that doesn't even improve it in any sense really. It's unspeakably awful.
Directors Cat
Super Reviewer
Drive Angry Quotes
There are no approved quotes yet for this movie.