The Dreamers
(2004)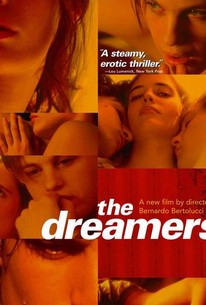 Movie Info
The tumultuous political landscape of Paris in 1968 serves as the backdrop for a tale about three young cineastes who are drawn together through their passion for film. Matthew, an American exchange student, pursuing his education abroad in Paris, becomes friends with a French brother and sister duo, named Guillaume and Danielle, who share a common love of the cinema. While the May 1968 Paris student riots--which eventually shut down most of the French government--are happening around them, the three friends develop a relationship unlike anything Matthew has ever experienced, or will ever encounter again.
Critic Reviews for The Dreamers
Audience Reviews for The Dreamers
½
Wild and ambitious, The Dreamers is a Bernardo Bertolucci masterpiece that candidly declares an erotic affection for cinema with references to Breathless, Band Of Outsiders, and other classics. For cinephiles, The Dreamers is a daring and nostalgic exploration of cinema, sex, and politics with equally daring performances from the talented ménage à trois - Michael Pitt, Eva Green, and Louis Garrel. Strictly for mature audiences only.
Jan Marc Macababayao
Super Reviewer
½
'Strange, beautiful.....and you'll never hear surf music again.' The soundtrack aptly begins and ends with the Hendrix tune, serving both as testament and summary.
Stefanie C
Super Reviewer
It's artistic and political and psychological and sexual, but I can't say all those themes really jived. The filmic commentary helps to establish the trio's friendship in fun and moving ways, but it doesn't have much to do with the political payoff. The social unrest bookends the historical relevance of the movie, but there's no definitive extolling or damning of Matthew's pacifism. Isabelle and Theo's twisted codependence and Matthew and Isabelle's sexual awakening are equally awkward and titillating, but the film seems to treat these issues as face value quirks. There's no subsequent discussion after Isabelle breaks down at Theo's door. There's no revelation of Isabelle's attempted suicide. There's no consequence to their parents finding out. Michael Pitt has the most interesting face. It's so naive yet bold. He does have beautiful lips.
Alice Shen
Super Reviewer
The Dreamers Quotes
There are no approved quotes yet for this movie.