Dragon: The Bruce Lee Story
(1993)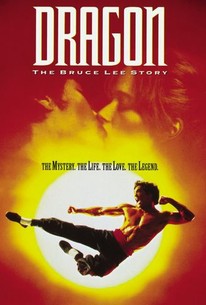 TOMATOMETER
AUDIENCE SCORE
Critic Consensus: While its impact is blunted by an overly reverential approach to its subject, Dragon: The Bruce Lee Story remains a reasonably entertaining biopic of the martial arts legend.
Dragon: The Bruce Lee Story Videos
Dragon: The Bruce Lee Story Photos
Movie Info
The brief but eventful life of actor and martial arts trailblazer Bruce Lee is portrayed in this drama, based on a biography written by his widow Linda Lee Caldwell. Lee is introduced to the study of martial arts as a child living in Hong Kong by his father (Ric Young); the father dreamed that a demonic armored dragon would take his son from him, and wanted young Bruce to be able to protect himself. Bruce continues his training as he grows to adulthood, and after the cocky teenaged Lee (Jason Scott Lee, no relation to Bruce) seriously injures a prominent British citizen while fighting a gang of troublemakers at a dance, he's sent to San Francisco. While working as a dishwasher, Bruce begins to study philosophy, and in time develops a personal martial arts discipline, Jeet Kune-Do, which blends Kung Fu fighting techniques with lessons gained from his philosophical research. Bruce decides to open a martial arts academy on the advice of his fiancée Linda (Lauren Holly); Linda and Bruce encounter resistance as a mixed-race couple, especially from Linda's mother Vivian (Michael Learned), and Bruce earns the enmity of traditional Chinese martial arts experts for his new style. But after a strong showing in several public tournaments, Bruce's fighting skill and charisma attracts the attention of TV producer Bill Krieger (Robert Wagner). Bruce is cast as Kato, the karate-trained sidekick on the series The Green Hornet, and while the show is short-lived in America, it's a huge success in Asia, leading to a series of films based around Bruce's remarkable fighting skills. Sadly, shortly before the release of the film that would make him a major screen star in the United States, Enter The Dragon, a mysterious brain disorder sends Lee into a coma that soon kills him. In a tragedy with eerie timing, Bruce Lee's real-life son Brandon Lee died shortly before this film was released, the result of an accidental shooting while completing the picture The Crow.
News & Interviews for Dragon: The Bruce Lee Story
Critic Reviews for Dragon: The Bruce Lee Story
Audience Reviews for Dragon: The Bruce Lee Story
I'm a such fan of Bruce Lee since 1973's Enter the Dragon and really interested to watch the biography of the legendary martial artist star at the first time. Jason Scott Lee (no relation) is impressive as Bruce Lee and he successfully captures his mannerisms, attitude and even his fighting style, extremely convincingly. He trained the art of Jeet Kun Do by one of Bruce Lee's real-life students. And Lee and Lauren Holly, as Bruce's wife Linda, share a remarkable chemistry together and are certainly a credit to their subjects. Director Rob Cohen does his best work with this film showing that he could easily direct fight scenes and able that he could balance it out with personal drama. Check out Bruce Lee's daughter, Shannon, appeared cameo in this biography film as a singer. Originally Bruce's son, Brandon, was offered the part of his father in this, but declined and unfortunately later died before this film was completed. And I'm very pleased to see at the end of credit sending the regret of Brandon's death during the same year while this film released.
Dean McKenna
Super Reviewer
The Biopic of Bruce Lee's life. The inspiring, strong willed man, whose mind, body, soul and strength led him to become the huge legend he is known as today. A truly great portrayal by Jason Scott Lee as Bruce Lee in the film, who fit the role, so well physcially. The story reveals a true insight into the prejudice surrounding the combined cultures during the era and the strength of Bruce and Linda's relationship through their time together. A man who united people boyond traditions.
Lady D'arbanville
Super Reviewer
Biographical story of Bruce Lee the famous martial arts Hollywood star. In depth and great soundtrack
Alexander Wilson
Super Reviewer
Dragon: The Bruce Lee Story Quotes
There are no approved quotes yet for this movie.