Dracula II: Ascension
(2003)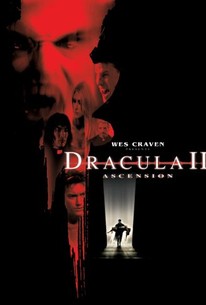 Dracula II: Ascension Photos
Movie Info
The burned corpse of Dracula (Stephen Billington) is revived by a wheelchair-bound scientist, Lowell (Craig Sheffer), and his devoted students in an effort to cure Lowell of a fatal disease. They chain the demon to a slab at the bottom of an abandoned indoor swimming pool and begin their experiments. But the highly contagious, extremely convincing fiend can create havoc even chained up, as Elizabeth (Diane Neal) and Luke (Jason London) find out the hard way. Luckily, vampire-slaying priest Uffizi (Jason Scott Lee) arrives with his razor-studded whip.
News & Interviews for Dracula II: Ascension
Critic Reviews for Dracula II: Ascension
Audience Reviews for Dracula II: Ascension
½
The Wes Craven Dracula series continues in the gritty thriller Dracula II: Ascension. Picking up where Dracula 2000 left off, a group a medical students steal Dracula's remains from the morgue when they receive an anonymous call offering them $30 million for the body. The cast is fairly decent for a low-budget horror film; except for Stephen Billington, whose depiction of Dracula is rather bland. And while the story has some interesting ideas, it lacks cohesiveness. Dracula II: Ascension is an intriguing and entertaining film that delivers some thrills, but it lacks the passion and vision of the original.
Dann Michalski
Super Reviewer
½
A gripping and creepy edge of your seat thriller that's packed with non-stop suspense and riveting terror. A slick and very cool sequel. You might want to leave the lights on with this one, it grabs you and never wants to let you go. An intense and chilling horror film. A terrifying and wickedly entertaining sequel that shines with smarts and a great cast.
What a gore in this vampire direct-to-video sequel and Jason Scott Lee's okay as a vampire hunter.
Dean McKenna
Super Reviewer
Dracula II: Ascension Quotes
There are no approved quotes yet for this movie.