Dracula 2000
(2000)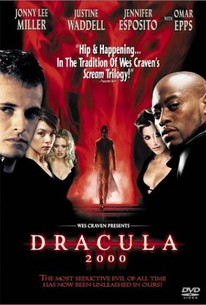 TOMATOMETER
AUDIENCE SCORE
Critic Consensus: This retelling trys to offer a different spin on the origin of Dracula. Unfortunately, there's nothing here audiences haven't seen before.
Movie Info
In this loose reinvention of the classic Bram Stoker novel, the Count (Gerard Butler) is transplanted to the present day, after a brief prologue where Van Helsing (Christopher Plummer) captures Dracula and conceals him in Carfax Abbey, where he remains for many years. In the future, Carfax Abbey is contained within an office building where Van Helsing's been using Dracula's blood to stay alive in order to guard the evil secret. After a band of thieves, led by the malevolent Marcus (Omar Epps), attempts to seize Dracula's remains, the Count escapes to New Orleans, where Mary Van Helsing (Justine Waddell) currently resides. Mary is eventually persuaded to fight Dracula with the aid of a reluctant Simon(Jonny Lee Miller), one of Van Helsing's employees, all while trying to escape the newly-made vampires of Marcus' gang and a zealous TV reporter (Jeri Ryan). The film also features Lochlyn Munro, Jennifer Esposito, Vitamin C, and Danny Masterson in supporting roles.
Critic Reviews for Dracula 2000
Audience Reviews for Dracula 2000
Enjoyable. Any film where Omar Epps dies is enjoyable.
Christian C
Super Reviewer
Dracula: You made the world in your image. Now I make it in mine.  "19th Century Chills Terrify The 21st Century" Dracula 2000 is bad. It's the worst Dracula related film I have seen, yet it has some entertainment value in its awfulness. You know those movies that are bad, but are so bad, they are good. Well, this isn't one of those, but it isn't so bad that it is unwatchable. Actually there are some decent ideas in the film. I really liked the connection between Judas and Dracula. Had it been used in a better way, it could have been much better. But the whole idea was executed in a hurried and sloppy way, that made it come of as idiotic, when it should have been inventive. It is easy to see that Dracula 2000 wants to reinvent the Dracula-vampire genre. It wants to be the Scream of the vampire genre. It wants to use humor and predictability as an advantage, but it never even gets close to doing that as well as what Scream did for the slasher genre. There are some points of interest with the movie though. Christopher Plummer plays Van Helsing, which was a great casting decision. It's too bad that he was mostly wasted though. Gerard Butler plays Dracula and he isn't terrible, but like normal, he is appearing in a movie that is beneath him. There's some well done scenes, some cool images, and I liked the use of Christianity, but on a whole it never gets to where it needs to be. The acting for the most part is pretty lifeless. There are some beautiful women that are there just because they are beautiful.  Where this movie fails the most at is with the fact that it isn't a horror film. Sure that's what it's classified as, but never in the movie does it seem like it's even trying to be scary. It may, in fact be trying, but it never appears that way to the viewer. It seems like an hour and a half of failed laughs and suspense. I'm fine with horror movies that try to create laughs, but there has to be a sense of something in the way of horror, and Dracula 2000 just doesn't have that. In the end, it is just a failed attempt at recreating a Dracula story for a new generation.
Melvin White
Super Reviewer
A hip, stylish, thrilling and exhilarating re-imaging of the classic tale told in the twenty first century. A smart, funny and action-packed horror flick with brains as well as teeth. It's one of the best vampire films involving Dracula since Frances Ford Coppala's film. It's one frequently cool thrill-ride that delivers the goods. A great cast. Christopher Plummer is brilliant, Johnny Lee Miller is terrific. Gerard butler is excellent, he brings a great presence and is thrilling in the role of the iconic character.
Dracula 2000 Quotes
There are no approved quotes yet for this movie.