Dr. Phibes Rises Again
(1972)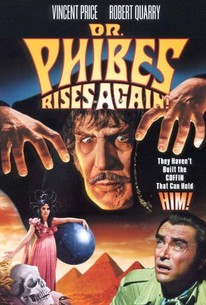 Dr. Phibes Rises Again Photos
Movie Info
The sequel to The Abominable Dr. Phibes, this film follows the quest of Dr. Anton Phibes (Vincent Price) to bring his dead wife back to life by retrieving a stolen Egyptian scroll that leads to a life-giving elixir. As Phibes races to obtain the elixir, he must fight off the sinister Biederbeck (Robert Quarry), who wants the potion for himself.
Critic Reviews for Dr. Phibes Rises Again
Audience Reviews for Dr. Phibes Rises Again
½
The first "Dr. Phibes" film was a remarkably entertaining film that found the right balance between campy humor and grand guignol-style horror. This sequel is unfortunately a huge let-down. Everything that made the original great seems to be completely mishandled this time around. First off, none of the characters are remotely interesting in this one. Secondly, the deaths are nearly as innovative. Also, the technical credits are pretty weak (the direction by Robert Fuest seems to have no sense of pacing where the first one zipped right by). Mostly however is there's too much emphasis on comedy in this one. There's no menace to Phibes anymore. Whereas the first film was a great tongue-in-cheek and campy horror film, the sequel is simply a lousy comedy. Apparently the production was rushed and it shows. Fortunately, the film is still worth watching thanks to Vincent Price. Even with the lesser material, hes still got it, succeeding where the rest of the film fails - finding the right balance between horror and comedy. The performance is still delightful even if the screenplay calls for him to go too over-the-top. The rest of the cast fares worse. Peter Jeffrey (who was enjoyable in the first one) and the bland Robert Quarry (nowhere near as good an actor as Joseph Cotten) are both given far too much screen time. "Dr. Phibes Rises Again" is another disappointing sequel to a great original. 2 1/2 Stars 2-10-14
Bruce Bruce
Super Reviewer
½
A direct continuation of the Phibes' resurrection saga, 'Dr. Phibes Rises Again!' is a lackluster sequel in which Phibes' Shakespearean rants about the River of Life are too long-winded and the methods for dispatching Phibes' enemies are even more graphic which also lessens their macabre wit (a hawk mauling is pretty stomach-churning). The first act is particularly exposition-heavy with another Scotland Yard investigation and the deaths are minimal at best. The MacGuffin in the film is a papyrus which will aid Phibes in his quest for eternal life and it is a rather weak contrivance to relocate the setting to Egypt. At this point Phibes' targets are no longer sympathetic. In fact, Biederbeck is a megalomaniac who is obsessed with his macrobiotic elixir and is vexed by the inconvenience of his henchman's murder via a snake concoction. The only sublime moments blossom from Price's delightful performance such as when Phibes nearly chokes on food which is lodged behind his facial prosthetic or when he gnashes on grapes while a victim agonizingly shrieks from scorpion stings. Obviously Phibes was not destined to be a franchise character as the films have already dovetailed into listless mediocrity.
Cory Taylor
Super Reviewer
Not nearly as memorable as the original, but not all that bad. There aren't quite as many death sequences in this film as there are in the original, which makes for long boring moments in between them. Some of Price's overdubs stick out like a sore thumb this time around, as well. The story is less interesting this time around, as there isn't quite as much to do with the original plot. It is certainly squirm-inducing in spots and there are some hilarious one-liners, but I think I prefer to see the original more than this sequel.
Tim Salmons
Super Reviewer
Dr. Phibes Rises Again Quotes
There are no approved quotes yet for this movie.