Double Dare
(2005)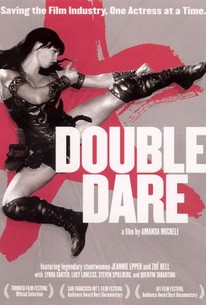 Movie Info
Jeannie Epper and Zoe Bell are two women who get hurt for a living -- they're Hollywood stuntwomen, who take the falls and dodge the punches while taking the place of glamorous stars. Epper's big break came when she was hired to stand in for Lynda Carter on the Wonder Woman television series in the 1970s, while Bell made a name for herself doing Lucy Lawless' stunt work for Xena: Warrior Princess. Double Dare is a documentary which looks at the lives and careers of these two women, as well as their friendship. Epper, in her early sixties, finds herself dealing with ageism in the entertainment industry, just as she's dealt with sexism much of her life, as she struggles to stay in the game, while Bell learns from her older friend not only the nuts and bolts of stunt work but the trails Epper and her compatriots had to blaze to be respected in their profession. Double Dare also features appearances by Quentin Tarantino and Steven Spielberg.
Critic Reviews for Double Dare
Audience Reviews for Double Dare
½
"Double Dare" is a fun and interesting documentary about stuntwomen who rely on a combination of faith and fearlessness to survive in a field that has long been dominated by men. There is footage comparing stunt work to the finished product which helps illuminate the value of their work. My only major complaint is that there is not a more detailed history of stuntwomen in the documentary. "Double Dare" focuses on two stuntwomen from two different generations, Jeannie Epper and Zoe Bell, who are both in the process of looking for work in the documentary. Mostly known for doubling for Lynda Carter on "Wonder Woman," Epper comes from a family of stuntpeople(Steven Spielberg testifies to the vast amounts of her family working in the fight scene in "1941") and her daughter is also in the business. Even though she is nearing 60, Epper is nowhere near ready to retire, stays in shape, takes time out to donate a kidney and is even considering liposuction to look younger. Quentin Tarantino to his everloving credit is looking for toughness in casting for "Kill Bill" and for good reason. One of the stuntwomen he is considering is Zoe Bell who up to this point is mostly known for her stuntwork on "Xena: Warrior Princess" which had just gone off the air. Considering her next job, like some of her fellow New Zealanders in show business, she is daunted by the prospect of moving away from home to look for work in Hollywood. The irony is that once satisfied to work behind the scenes, since the documentary was released, she has started to develop a career as an actress.
Double Dare Quotes
There are no approved quotes yet for this movie.