Dot the I
(2003)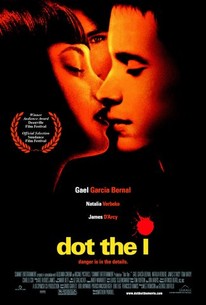 Movie Info
Young Spanish flamenco dancer Carmen (Natalia Verbeke), who lives in London, is on the verge of marrying Barnaby (James D'Arcy). By happenstance, she meets Kit (Gael Garcia Bernal), a Brazilian actor, the night before her wedding and ends up kissing him. What follows is subterfuge galore (to cover up their budding lust). Better cross a few of those &NFi;t&NFi_;'s, too! Costars Charlie Cox and Tom Hardy. Matthew Parkhill directs.
Critic Reviews for Dot the I
Audience Reviews for Dot the I
Starts off predictably, then gets interesting towards the end but only slightly interesting. Worth the worth for Gael Garcia Bernal..but that's about it.
Sarah Gaish
Super Reviewer
In general, to avoid "spoiler reviews," I try to spend most of my time talking specifically about act one and talk in generalities about acts two and three. Act one of Dot the I sucks. We get relatively uninteresting characters, and it is obvious that the film is trying to set up a thriller plot-line, but we're never given any real clues to build the suspense. Acts two and three rock! The thriller plot-line manifests and turns this film into a brutal version of The Shape of Things. I especially liked the satire of the independent film industry, and that's about all I can say without spoiling the prestige. Verbeke is a beautiful, doe-eyed innocent with a flash of the bad girl here and there; she makes for an alluring screen presence, but I don't see much depth in her performance. D'Arcy is fantastic in acts two and three, but he's as boring as the film in act one. In the few Bernal films I've seen, he does a Mexican imitation of Jim Carrey and Zach Braff, but he is able to keep that annoying side of his acting under control for most of Dot the I. Overall, if it were possible to skip the first forty-five minutes and still understand the film, I'd suggest it.
Jim Hunter
Super Reviewer
½
This is a big champagne budget movie done on a beer budget. Seeing how the story is told with what appears to be several beginners at the helm made it even more fun and bordered on artistic for me! It was an enjoyable movie to pass some time watching.
Thomas Johnston
Super Reviewer
Dot the I Quotes
There are no approved quotes yet for this movie.