National Lampoon Presents Dorm Daze
(2003)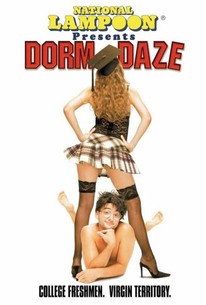 National Lampoon Presents Dorm Daze Photos
Movie Info
The lowbrow side of higher education returns to the screen in this purposefully tasteless comedy brought to you by the folks at National Lampoon. It's a few days before Christmas vacation, and a mood of giddy enthusiasm is in the air at a coed college dormitory. However, one of the students, a freshman, is despondent over his lack of success with the ladies during his first term at school. His older brother decides the lad needs to lose his virginity before he can make any real progress with his classmates, and hires a prostitute named Dominique (Boti Bliss) to give his brother some experience in the ways of physical love. However, it turns out that more than one Dominique is on her way to the dorm -- a French foreign-exchange student with the same name and almost no working knowledge of the English language (Marie Noelle Marquis) also shows up, and much confusion and comic hijinks ensue. Shot under the title Dorm Day Crazy, National Lampoon Presents: Dorm Daze was produced independently, but was later picked up by the National Lampoon organization, who in turn arranged a distribution deal for the picture.
News & Interviews for National Lampoon Presents Dorm Daze
Critic Reviews for National Lampoon Presents Dorm Daze
Audience Reviews for National Lampoon Presents Dorm Daze
When you have a movie where everything that can go wrong, will go wrong, the movie just becomes wrong. Never before have I seen a plot line so tangled within itself and so desperately trying to tie all of the stories together in a humorous way that it completely destroys the film. I have no idea how point A got to point B and I spent the entire time thinking that something was being resolved so I can finally turn off this god forsaken movie and go to sleep, then they completely twist the event to go on for another 15 minutes over and over again. Never before has a movie made me more frustrated than this one. I am forced to give them a half star since zero isn't an option.
Justin Walker
Super Reviewer
½
National Lampoon's Dorm Daze had some familure sitcom actors and surprisenly they all played pretty good roles. The storyline was creative but far out. In a world where anything can happen, because reality is tossed out the window there is some good laughs, but lot's of wasted potential. I feel the movie could of been a lot better in some ways, but I've seen worse.
Bobby Hobbs
Super Reviewer
National Lampoon Presents Dorm Daze Quotes
There are no approved quotes yet for this movie.