Don't You Forget About Me
(2009)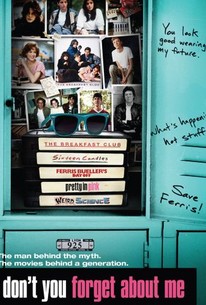 AUDIENCE SCORE
Critic Consensus: No consensus yet.
Movie Info
A group of Canadian filmmakers take a road trip in order to track down filmmaker-turned-Hollywood-recluse, John Hughes, as they travel through America in this Alliance Films documentary. Past Hughes alumni Judd Nelson, Ally Sheedy, Mia Sara and Andrew McCarthy appear in interview segments.
Critic Reviews for Don't You Forget About Me
There are no critic reviews yet for Don't You Forget About Me. Keep checking Rotten Tomatoes for updates!
Audience Reviews for Don't You Forget About Me
½
A group of filmmakers try to find director John Hughes to try and complete a documentary about John Hughes and his films. A nice love letter to the late filmmaker, the movie includes a lot of interviews from several actors and friends whom had worked with the reclusive writer/director. The film however never really develops fully, it is mainly a film about a bunch of fans tracking down their hero. Which sadly they never do, and sadly they now will never get the chance. Where the film does succeed the most is that it gives us a very intimate portrait of John Hughes through the people that worked with him, and the next generation of filmmakers he influenced. Their will never be another John Hughes and watching this film makes you realize what a unique and great talent he was.
Jason Reneau
Super Reviewer
An excellent look into the films and impact of John Hughes. As these young filmmakers travel to Chicago to try and get an interview from the iconic director we get insights about the man and his films from not only the people who he has worked with and other directors he has inspired but also from the most recent generation his films have captivated. It's a well edited and entertaining film with a build up to see if they can truly get the attention of the man himself. It's a fun look back on the films as well as a look into what Hollywood is doing wrong when making films with a younger audience in mind.
Jason Spencer
Super Reviewer
This stupid piece of shit is a total waste of time! What I don't understand is they get some good people for interviews and either don't ask any good questions or just cut them out so the directors can get more face time. This is really sad because John Hughes deserves a real documentary done by real filmmakers, instead of a bunch of jerkoffs who like to hear themselves talk.
cody franklin
Super Reviewer
Don't You Forget About Me Quotes
There are no approved quotes yet for this movie.