Don't Worry, He Won't Get Far on Foot
(2018)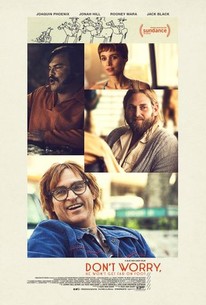 TOMATOMETER
AUDIENCE SCORE
Critic Consensus: Don't Worry, He Won't Get Far on Foot avoids inspirational biopic clichés thanks to sensitive work from writer-director Gus Van Sant and the admirable efforts of a well-chosen cast.
Don't Worry, He Won't Get Far on Foot Videos
Don't Worry, He Won't Get Far on Foot Photos
Movie Info
John Callahan has a lust for life, a talent for off-color jokes, and a drinking problem. When an all-night bender ends in a catastrophic car accident, the last thing he intends to do is give up drinking. But when he reluctantly enters treatment -with encouragement from his girlfriend (Rooney Mara) and a charismatic sponsor (Jonah Hill) -Callahan discovers a gift for drawing edgy, irreverent newspaper cartoons that develop an international following and grant him a new lease on life. Based on a true story, this poignant, insightful and often funny drama about the healing power of art is adapted from Callahan's autobiography and directed by two-time Oscar (R) nominee Gus Van Sant. Jack Black, Carrie Brownstein, Beth Ditto and Kim Gordon also star.
News & Interviews for Don't Worry, He Won't Get Far on Foot
Critic Reviews for Don't Worry, He Won't Get Far on Foot
Audience Reviews for Don't Worry, He Won't Get Far on Foot
½
ï¿ 1/2It is hard teaching people faith.ï¿ 1/2Â?
Philip Price
Super Reviewer
This succeeds in spelling out what life is like for, and around, an alcoholic, and a person with quadriplegia - in this case, the one man is both. It also delivers strong messages about drink driving, the morals of making the wrong assumptions, and about how people treat one another in profound circumstances. It is a story of triumph over adversity. As cinema, it is less engaging. The title is more humorous than the film. Phoenix is less interesting than in say Inherent Vice. The screenplay repeats numerous, and ultimately voyeuristic, examples of the physical problems. It aims for a graphic naturalism, but the dialogue is forced. Sometimes it is inaudible. The direction is monotonous; the editing is padded. We get the standard formula, of a flawed man who lands intimacy with improbably ideal women. Yes, it is a vote for recognising that people with disability have a love life. But here, the women are little more than objects; how many blank, glossy-mag close-ups of Mara did it need? Compare Coming Home, where Fonda was presented unglamorously, with a powerful, complex role in the story. The AA members provide caricatured interest. The screenplay could instead have opted for deeper wit and characterisations in these roles. Even the inner path from tragically hapless drunk, to successful creative artist and human being, is written simplistically. He starts drawing, someone publishes him, and then he is away. What happened within him, to bring about that change? In this show, alcoholism and disability are the main ingredients for a low kind of humour, and it misses the opportunity to do justice to the full story and the people in it.
Inherent Vice now has an alcoholic little brother. Don't Worry, He Won't Get Far on Foot is Gus Van Sant's first decent movie in a decade, and it's not in the least bit because of poor casting. Joaquin Phoenix plays cartoonist John Callahan, a quadriplegic struggling with alcoholism before and after the accident that resigned him to a wheelchair. He's aided in his 12 Step program by a very slim Jonah Hill, a rich gay hippie. By late seventies period piece law, Hill's character, of course, has AIDS. Also, we know it's the seventies because Jimmy Carter is on the TV, and everyone has long hair. With the presence of Rooney Mara as a Swedish physical therapist/flight attendant and then Jack Black, you'd think it was a comedy. The contrast between Phoenix' wheelchair-bound slapstick, the gallows humor, and the horrid struggle of quadriplegia brought about by years of depression and alcohol abuse makes for a lot of tonal dysphoria. Yet somehow the beauty of life wins out in the end. I'm not really sure what the clunky time jumping in the first hour was about, maybe a botched framing device, but it does confuse you into being intrigued about what comes next. Granted, I knew nothing about the film going in, so even if it weren't based on the true life of Callahan I still found it a very effective exploration of what drives a person to drink. For as poor as some of the decisions made in the making of the film are, it ultimately accomplishes what it sets out to do. From what I've read, Robin Williams had tapped Van Sant to direct this with, I'm assuming, the intent to play the role of Callahan. I know that this is all before and outside what we are presented, but it certainly feels like the movie was intended as a light in the darkness for anyone who is struggling with addiction and depression. We are living in a world that beats us down on a regular basis. Even those we love don't always know what we're going through, and with the ubiquity and normalization of booze culture in America, it's easier to treat the symptoms and not the disease. We can all still learn to forgive and work towards finding a greater purpose.
K Nife Churchkey
Super Reviewer
Don't Worry, He Won't Get Far on Foot Quotes
There are no approved quotes yet for this movie.