Don't Look Now
(1973)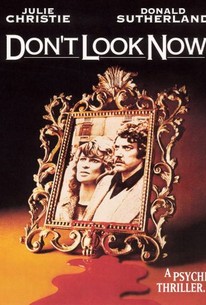 TOMATOMETER
AUDIENCE SCORE
Critic Consensus: Don't Look Now patiently builds suspense with haunting imagery and a chilling score -- causing viewers to feel Donald Sutherland and Julie Christie's grief deep within.
Movie Info
A married couple is haunted by a series of mysterious occurrences after the death of their young daughter in this enigmatic chiller. Based on a story by Daphne du Maurier, whose works inspired Alfred Hitchcock's Rebecca and The Birds, the film centers on Laura and John Baxter (Donald Sutherland and Julie Christie), who have recently relocated to Venice so that John can oversee the architectural restoration of an old church. Both hope that the change of environment will allow them to forget the recent tragic demise of their child, but they instead find themselves surrounded by reminders of death, as the city attempts to deal with a series of unexplained murders. The eeriness intensifies when they encounter a blind psychic and her eccentric sister, who promise to contact her daughter's spirit. Laura embraces the idea, but John remains skeptical until he experiences his own visions: fleeting glimpses of someone in a red coat similar to one that belonged to his daughter. ~ Judd Blaise, Rovi
News & Interviews for Don't Look Now
Critic Reviews for Don't Look Now
Audience Reviews for Don't Look Now
With a melancholy score and fabulous editing, this notably ominous and labyrinthine story about grief and acceptance uses symbols, omens and a constant sense of danger to make us share the intense confusion and disorientation experienced by its characters.
Carlos Magalhães
Super Reviewer
½
A chilling thriller that parallels climactic highs with psychedelic horror, this film uses its understated source material to drive the tension forward superbly, and remains artfully directed and shot the entire way through. Using an original short story from the queen of literary gothic horror, Daphne du Maurier, we meet a family in a British country home, the father working on church restorations. Tragically their daughter drowns while trying to retrieve a ball in the creek behind their home, their son unharmed. The couple are obviously devastated, but the husband, John (Sutherland) feels the burden even more because he had a psychic vision of the incident before it happened. John keeps having these unfortunate visions even as he and his wife, Laura (Christie) escape to Venice while he reconstructs yet another church. While in the city the couple experience the strange and abundantly weird aura of the city, clandestine circumstances seemingly surround them starting with their introduction to a couple of sisters, one being blind and psychic. The psychic tries to reconnect their daughter to them via trances and seances, and Laura believes every word, whether it's true or not. John is hesitant to believe, and in that disbelief he becomes disenchanted, following around a small red caped figure who looks, from behind, like his deceased daughter. John goes on to see other strange things, almost dies during a work accident, and chases down the caped figure and his wife, possibly brainwashed, around Venice. The circumstances of the thriller are very chilly, because not only does John constantly experience chances at seeing who he believes to be his daughter, but he and his wife are also trying to reconnect to each other after her death. Neither believes the other is completely sane, and that lends to a distrust between the couple, us the audience, and everyone else within the film. The mood is set as being distrustful and surreptitiously haunted, using distinct cinematography and a disconnect in language that occurs with the setting. The couple's own connection to one another is well established thanks to a very explicit and very passionate love scene, and the twist ending ties together so many miscellaneous odds and ends that it is not only strange but also brilliant. Moody and dark, this film embodies so many genre characteristics and yet remains intact as its own entity, making it one of the best horror films, and beyond genre films, perhaps ever made.
Spencer S.
Super Reviewer
½
A married couple mourning their child go to Venice where they meet a pair of creepy old ladies who claim to speak for their dead daughter. A thoroughly uninspired thriller, this film fails to chill or excite. The quick cuts - I call them "flash edits" - do nothing to enhance the film's suspense; rather, they just distract attention from the film's action and induce an epileptic fit. The dramatic question is supposed to be how the prognosticators' predictions will come true, but it didn't work for me. And the ending comes out of nowhere; whereas a film like Momento made me marvel at the clever way the film's inevitable outcome came to pass, Don't Look Now just pulled some crazy shit out of its ass. The performances by Julie Christie, who is especially beautiful, and Donald Sutherland, who isn't but show it all anyway, are unremarkable, neither good nor bad. Overall, the writer of this film did Rebecca, one of Hitchcock's finest, but there's nothing touching the genius in her other work in this film.
Jim Hunter
Super Reviewer
Don't Look Now Quotes
There are no approved quotes yet for this movie.