Don't Go to Sleep
(1982)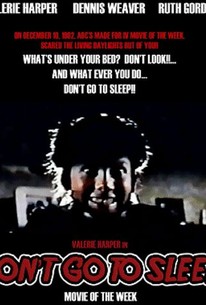 AUDIENCE SCORE
Critic Consensus: No consensus yet.
Movie Info
Little Mary (Robin Ignico) is haunted by the guilty memory of her sister Jennifer, who died in an auto accident not long ago. Jennifer had always been more adored by their parents, and Mary can't help thinking that her jealousy was behind Jennifer's death. Soon, Mary begins to imagine that there's something, or someone, hiding under her bed, and it becomes apparent that the nocturnal visitor is her dead sister. The apparition, who is only seen by Mary, is not satisfied being the only member of her family to have crossed over; she wants the rest of her family dead. Soon, to Mary's horror, her dead sister is orchestrating the deaths of the other members of the family, one by one. Ned Wynn wrote the screenplay for this TV-movie thriller, which first saw the light of day on December 10, 1982.
Critic Reviews for Don't Go to Sleep
There are no critic reviews yet for Don't Go to Sleep. Keep checking Rotten Tomatoes for updates!
Audience Reviews for Don't Go to Sleep
Pretty old movie. Not that bad. I watched this at night but wasn't scared at all. But I have to admit that the ending was scary.
Dead Angel
Super Reviewer
½
I stumbled on this movie purely by accident. (I'm glad I did) I don't usually find many movies that "scare" me, but there are exceptions "In Possession", "The Grudge" (Japanese version), "Ghostwatch" and finally "Don't go to sleep". The story centres on a family who a year before has a car accident as the father has had one too many drinks and their eldest daughter gets killed due to a prank done on her by her younger siblings. The family move in with their grandmother so they can look after her. (Played by Ruth Gordon) She then later comes back as a ghost and haunts the younger sister who after a while becomes friends when Jennifer the older sister reveals herself to her, but this friendship becomes sinister when the sisters (mostly Jennifer who is out for revenge) decides to kill off other members of their family. The grandmother gets killed when the brother puts his pet Lizard under her sheets, scaring her to death. The second member is the brother (played by Oliver Robins from Poltergeist), he gets killed when he is trying to retrieve a Frisbee which gets stuck on the roof of the house, while he is climbing on the roof gets knocked off when an invisible force opens the window. The third member who gets killed is the father, (played by Dennis Weaver) while he is taking a bath and a radio falls into it. Later on, because the younger sister is labelled mentally unstable, she is sent to a lunatic asylum and Jennifer leaves her behind. Later on while her mother is sleeping, (played by Valerie Harper) Jennifer appears in front with a very evil grin on her face. When her mother screams, the movie ends. Although this was a very low budget TV movie, the storyline is the main theme which makes this film creepy and very scary. Don't underestimate it, although very similar to "The Grudge". "The Grudge" concentrated more on special effects in order to make it scary. Don't go to sleep concentrated more on the story. This is a brilliant ghost story and I recommend you see it. I must congratulate the entire cast and the director and I wish ABC would release it because it is very rare movie to find and if you do find a copy, you're extremely lucky.
Cassandra Maples
Super Reviewer
Don't Go To Sleep (1982) is a very hard movie to get a hold of. There is no DVD release yet for this movie, but there are copies floating around the internet. This was a made for TV movie and let me tell you, this scared the crap out of me back in the day. What a creepy ass movie this was. The movie is about a family of four, the parents and their two children, who move into a new home and try to start their life over after the death of their oldest daughter Jennifer, which resulted from a freak car explosion. The two other young kids, who happened to survive the car explosion, are Mary and her brother Kevin. The house that the family moved into belongs to Bernice, which is Mary and Kevin's grandmother. Everything seems fine at first but the terror begins when Mary starts hearing her deceased sister Jennifer calling for her from underneath the bed. Of course it turns out that Mary's parents don't believe her and they even blame her younger brother Kevin for scaring Mary. Little did they know that Kevin was indeed an innocent bystander and the voices that Mary was hearing might actually really be coming from her dead sister Jennifer. Things get even worse from here and the ghost of Jennifer now actually becomes visible to Mary. Jennifer's ghost becomes Mary's new playmate, and there's nothing or nobody that will stand in their way because Mary will make sure of that. After a few days of hanging out with her deceased sister, Jennifer tells Mary of a new plan that she has. She tells Mary that she must kill her family off one by one, or else they can no longer be together. Mary, scared to loose her older sister again, decides that this plan might just be a good idea and from here on is where things start becoming very deadly. Mary's family start slowly dropping like flies, but in the beginning it's not really visible to who is really killing them. And here's where the question lies...is Mary the one actually killing her family off one by one, or is it really the ghost of her dead sister Jennifer? This movie was very eerie. There is no violence or anything like that, being that it was a made for TV movie, but the things that they suggested I'm surprised that they got away with that much. The acting isn't the greatest, but what do you expect from a made for TV horror movie? It was good enough for what it was and it never gets too unbearably cheesy. The voices that came from underneath Mary's bed were scary as hell, and Jennifer's ghost was truly spine tingling. The story was also very well told, and what's even creepiest out of the whole thing was the ending that left me sleeping with the lights on (of course I was younger at the time), but it still packs a punch. This movie is very hard to find and as I said it isn't officially released on DVD yet. If you really want to see this movie just look around for a copy on the internet, but good luck finding it. The only reason why I have it is because I bought a copy from a horror convention, and luckily it was very good quality. Anyways, you should really try to see this movie.
jd cryptic
Super Reviewer
Don't Go to Sleep Quotes
There are no approved quotes yet for this movie.