Don McKay
(2010)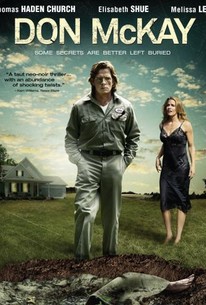 TOMATOMETER
AUDIENCE SCORE
Critic Consensus: Thomas Haden Church and Elisabeth Shue do their best with what they're given, but Don McKay is too confused and far-fetched to be taken seriously as a noir, and too inconsistent to work as a black comedy.
Movie Info
First time writer/director Jake Goldberger takes the helm for this thriller about a man who returns to his hometown after receiving a letter from his high school sweetheart, who claims to be dying. It's been 25 years since Don McKay (Thomas Haden Church) turned his back on his hometown, and he never imagined he would ever return. But when a letter from his former girlfriend Sonny (Elisabeth Shue) appears in Don's mailbox, he can't resist visiting his old flame one more time, before her light disappears forever. When Don comes home and realizes that his memories of Sonny don't match up with the woman she is now, it quickly becomes apparent that he harbors a shameful secret from years gone by. Meanwhile, Sonny's doctor (James Rebhorn) and caretaker (Melissa Leo) don't warm quickly to the returning visitor, and a chance run-in suddenly compounds Don's buried secret. ~ Jason Buchanan, Rovi
News & Interviews for Don McKay
Critic Reviews for Don McKay
Audience Reviews for Don McKay
A lukewarm Lynch-like film that leaves much to be desired, especially from stiff-jointed actress Elisabeth Shue. The movie's a series of curve balls without any real dramatic tension. It also can't make up its mind tonally. One minute it's a serious thriller, the next a black comedy. It's very rough and with a little work it could have been a bit more interesting. It's just a mess of a movie that will only mildly entertain.
Tim Salmons
Super Reviewer
½
Thomas Hayden Church (as Don McKay) has been around for a loooong time, as an actor...I saw this and wasn't disappointed at all!!! What a twisting, dark and delirious movie of a man that kept a secret for years and saved it to the very end.See this...his secret will stun and move you.
Fascade Fiveoneeight
Super Reviewer
½
Cast: Thomas Haden Church, Rachel Harker, Stephen Benson, M. Emmet Walsh, Melissa Leo, Elisabeth Shue, Amanda Donaghey, James Rebhorn, Keith David, Pruitt Taylor Vince, Lonnie Farmer Director: Jake Goldberger Summary: At the urging of his ex-girlfriend, Sonny (Elisabeth Shue), who has been diagnosed with terminal cancer, high school janitor Don McKay (Thomas Haden Church) returns to his hometown for the first time in 25 years and finds himself ensnared in a web of conspiracy, deception and murder. My Thoughts: "I really don't know how I feel about this film. It's not your typical thriller. It's pretty average to say the lease. The character's are odd and sometimes unbelievable in their parts. The acting was semi good. Elisabeth Shue's acting was between good and bad. I'm not sure if that was how her character was to be played, or if it was indeed her acting. Thomas Haden Church played an quiet, sad, but kinda interesting character. He just seemed very lonely, but by the ending of the film you understand why. The last 30-40 minutes of the film, in my opinion, is the only part worth watching. That's when you get interested in where it's going. Unfortunately you have to sit through the rest of it to understand the ending. But the ending and the twist is disappointing as well. Even unrealistic. There was some dry humor, but not much. The script left something to be desired. Not sure if many will like this film."
♥˩ƳИИ ƜѲѲƉƧ♥
Super Reviewer
Don McKay Quotes
There are no approved quotes yet for this movie.