Domestic Disturbance
(2001)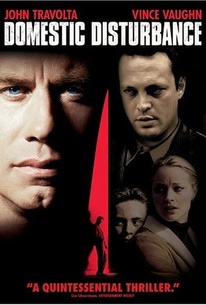 Domestic Disturbance Videos
Domestic Disturbance Photos
Movie Info
John Travolta stars in this thriller as divorced husband and father Frank Morrison, a boat builder concerned about his son Danny (Matthew O'Leary), a troubled 11-year-old who has shown a tendency to lie since his parents broke up. When his ex-wife Susan (Teri Polo) announces that she's getting remarried to Rick Barnes (Vince Vaughn), a recent arrival in town and a popular, wealthy philanthropist, Frank struggles with jealousy but feels that Rick might be a stabilizing influence for his son. When Danny begins relating unsettling stories about Rick, Frank at first chalks it up to youthful rebellion, but when Danny stridently claims to have witnessed his new stepfather committing murder, Frank's instincts tell him the story is true. As he investigates the new man in his family's life, Frank uncovers alarming facts about Rick, who's not the man he appears to be. Domestic Disturbance (2001) made headlines six months before its release when co-star Steve Buscemi, accompanied by Vaughn and screenwriter Scott Rosenberg, was stabbed and seriously injured in an after-hours bar brawl with locals near the film's North Carolina set.
Critic Reviews for Domestic Disturbance
Audience Reviews for Domestic Disturbance
Quite dull for a thriller and lacking in storyline. I would be seriously annoyed if I paid money to see this at the cinema instead of watching it on tv. Looks cheaply made like a tv movie, except I have seen more entertaining tv movies. Why Vince Vaugh's character is a psycho is never explained (or it was but I was asleep through boredom in that bit). Pile of wishy washy characters I couldn't care less about.
Nicki Marie
Super Reviewer
Tim Salmons
Super Reviewer
½
Surprisingly good, a little predictable in places but a pretty good Thriller. I do prefer Vince Vaughns more serious roles and think in this case he made a good bad guyl. Easy watching, enjoyable and entertaining.
Lady D'arbanville
Super Reviewer
Domestic Disturbance Quotes
There are no approved quotes yet for this movie.