$ (Dollars) (The Heist)
(1971)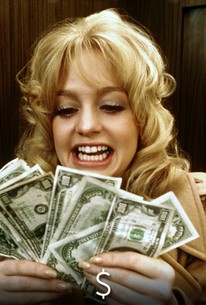 $ (Dollars) (The Heist) Photos
Movie Info
Originally billed as merely $, Dollars stars top box office draws Warren Beatty and Goldie Hawn. Beatty plays a security whiz, employed in Hamburg, Germany. He devises a clever method of robbing the secret bank vaults of notorious criminals, reasoning that the crooks will never turn to the cops. The notion that the crooks may have a few words to say to him does not dissuade Beatty as he and gold-hearted hooker Hawn work out their carefully calculated, meticulously timed robbery.
News & Interviews for $ (Dollars) (The Heist)
Critic Reviews for $ (Dollars) (The Heist)
Audience Reviews for $ (Dollars) (The Heist)
The film lingers on way too much on the mechanics of the robbery. Goldie Hawn is quite good but I wasn't sure if she was an actress I could ever take seriously. Warren Beatty is good and dashing as ever back in this 1971 picture. I knew this would be a heist movie but it's a different kind of heist movie and yet more complex then any other heist picture I have ever seen. I also took notice of the director Richard Brooks who gives a nod to the 64 picture "Goldfinger" by casting Gert Frobe who played Auric Goldfinger in $ Frobe is a bank owner who cautiously watches his most prized possession of a huge block of gold rested at his bank. $ may sound like a cool caper but I didn't really enjoy this picture. The pacing goes on much too long and I kinda wanted to see something more and I wanted to know more about the characters then the heist plan and climax. The long chase scene feels like a downer but I was surprised when Beatty's character was pulled under the rug by the Hawn character. Broks should have ended it there but instead sells out and goes for a cheap hollywood ending.
You can guess by the titles that this is a heist movie. It's not bad, but it's just like all the other heist movies out there, nothing new. Overall, it's okay.
$ (Dollars) (The Heist) Quotes
There are no approved quotes yet for this movie.