Banlieue 13 - Ultimatum (District 13: Ultimatum)
(2009)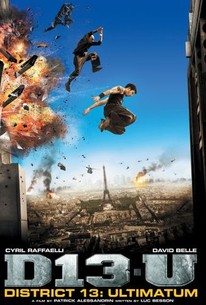 TOMATOMETER
AUDIENCE SCORE
Critic Consensus: District 13 bites off more than it can chew with its political subtext and questionable script, but the many action sequences are never less than entertaining.
Banlieue 13 - Ultimatum (District 13: Ultimatum) Photos
Movie Info
The loud, intense, and explosive action saga Banlieue 13: Ultimatum is a sequel to the 2004 European blockbuster Banlieue 13. This second installment was directed by Patrick Alessandrin but initially gestated from the vision of writer-producer Luc Besson, also responsible for scripting and producing the first go-round. Ultimatum unfurls three years after the original, in the slightly dystopian realm of suburban Paris, circa 2013. Ultra-violence now riddles that sphere -- to such a degree that cops have imposed a lockdown on the area, to little avail. Significantly, the neighborhood is also formally subdivided into ethnic enclaves, including Arabic, Asian, Caucasian, and African. As the tale opens, a crack team of rogue cops pulls off a police assassination inside of the district, prompting the police chief (Daniel Duval) to try to persuade the president (Philippe Torreton) to bulldoze the area and let the cops cash in on the turf's real estate value. In response, two of the said rogues, Damien (Cyril Raffaelli) and Leito (David Belle), hit the streets, guns blazing, and exude all of the force at their disposal to save the region from complete obliteration.
News & Interviews for Banlieue 13 - Ultimatum (District 13: Ultimatum)
Critic Reviews for Banlieue 13 - Ultimatum (District 13: Ultimatum)
Audience Reviews for Banlieue 13 - Ultimatum (District 13: Ultimatum)
½
An awesome, off the wall action-packed adventure. It's better than the original, bringing back the style, wit, grit and eye-opening stunts that made the first film work. An explosive, mind-joggling, fast-paced and exhilarating thrill-ride that you will love to watch again. Another great piece of action movie enjoyment from Writer/Producer, Luc Besson. It's loaded with amazing fights, incredible stunts, lots of bullets, great chases and a wicked story that has a brain and is crafted with pure adrenaline. It's full-throttle action entertainment. Cyril Raffaelli and David Belle are back and kicking more ass than ever. These two guys have great chemistry together, throwing in jokes as well as kicks and punches. It's smart, funny, thrilling and pulse-pounding. An adrenaline-charged great time. Their is much to admire about a movie like this when we have no stunts, wires or CGI but just pure athletic madness and dedication.
½
Patrick Alessandrin screams parkour with B13: Ultimatum.
When it comes to plot details, there is enough to fill the 95 minutes of screen time this film offers. There is a sluggish start to get the storyline moving; however, that's not to say that the introduction sucks; far from it. It's just more character oriented fun that eventually leads to the meat of the story.
The action and parkour stunt-work is highly stylized and amusing. It is scattered throughout, although the more entertaining pieces do not take place in the film's final act.
David Belle and Cyril Raffaelli showcase their skills without fail. Elodie Yung, the lone female, steps in for a fight of her own. The rest of the antagonists are, well, antagonists.
B13: Ultimatum is over the top in many places, but that works in this film's favor. "I'll distract them. You play spider-man."
Supercop Damien reunites with his old friend Leito to prevent a plot by a sinister government agency to level Banlieue 13 and profit from the rebuilding process. The original film was a braindead but fun XY pleaser with plenty of inventive action making it an entertaining ride. This rehash is basically the same plot with a slightly different conspiratorial spin and gang banger stereotypes thrown into the mix. It's a bit like Jackie Chan does The Fast And The Furious as a result and the fact that our first glimpse of Cyril Raffaelli is in drag shows that the grittiness bar has been suitably lowered. It's fast footed and brief enough to never bore but like the Taxi films before them, a case of lazy script writing being papered over by ever more ludicrous set pieces. Not a bad little diversion but the series really needs to stop here and now before it starts to embarrass itself.
Banlieue 13 - Ultimatum (District 13: Ultimatum) Quotes
There are no approved quotes yet for this movie.