Disobedience
(2018)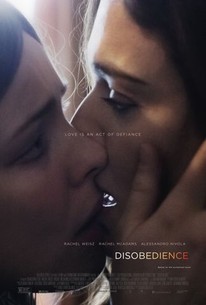 TOMATOMETER
AUDIENCE SCORE
Critic Consensus: Disobedience explores a variety of thought-provoking themes, bolstered by gripping work from leads Rachel Weisz, Rachel McAdams, and Alessandro Nivola.
Movie Info
From Sebastián Lelio, the director of the Academy Award-winning A Fantastic Woman, the film follows a woman as she returns to the community that shunned her decades earlier for an attraction to a childhood friend. Once back, their passions reignite as they explore the boundaries of faith and sexuality. Written by Lelio and Rebecca Lenkiewicz and based on Naomi Alderman's book, the film stars Rachel Weisz, Rachel McAdams and Alessandro Nivola.
News & Interviews for Disobedience
Critic Reviews for Disobedience
Audience Reviews for Disobedience
½
Rachel Weisz and Rachel McAdams star in the indie drama Disobedience. The story follows a young woman who returns to her childhood home to attend the funeral of her estranged father, an orthodox Jewish rabbi who disowned her. Neither Weisz nor McAdams give much of a performance, and the script doesn't help them out. Despite the orthodox Jewish community setting, the issue of faith never comes up or factors into the characters' choices. And the placing is incredibly slow, dragging on and on. Poorly made, Disobedience is a drab and monotonous film.
Dann Michalski
Super Reviewer
½
A delicate balancing act between the confines that hold together the sense of balance in our lives and the desires that sometimes rub up against them forcing the mind to contemplate what is worth following: the rules or our hearts. This is more complex than we might imagine when young and more ambitiously optimistic as we know the rules we set for ourselves, these things that keep order in our lives, are typically for our benefit. With Disobedience, Sebastián Lelio (Gloria, A Fantastic Woman) guides a young woman (played beautifully by Rachel McAdams) through this life she feels a genuine affection for and having to choose between it and the life she knows is true to who she's always been. It's all rather heartbreaking.
Philip Price
Super Reviewer
½
Aside from being the first in line to see the next blockbuster or superhero film, I really enjoy going to see movies that show you a different side of life. Whether that be a post-apocalyptic wasteland, a medieval love story, or an inner city crime drama, movies have a way of shaping the world through different eyes and impacting your viewpoint on things for the better. Disobedience is a nice example of a film that displays a forbidden but passionate love story from a fascinating point of view, the religious angle. I no longer consider myself an overtly religious person, but if done right, the stories that derive from that of faith are certainly interesting to watch. And in Disobedience, religion is at the forefront without being overpowering. Rachel McAdams and Rachel Weisz play Esti and Ronit respectively, two lovers who find themselves back in the same town after the ladder was essentially exiled for being in love with Esti as a young woman. It's these performances, along with Alessandro Nivola as Dovid that bolster this deep drama with humanity and heart. What each of the trio goes through individually is incredibly powerful, especially when you come to realize the emotional stakes that become involved as the film near its end. I found Disobedience to be an extremely thought provoking and unique take on a romance. 7.8/10
Thomas Drufke
Super Reviewer
Disobedience Quotes
There are no approved quotes yet for this movie.