Disclosure
(1994)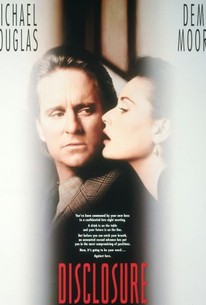 Movie Info
Michael Douglas runs afoul of a treacherous supervisor in this film version of Michael Crichton's novel. Douglas plays Tom Sanders, an executive at DigiCom, a leading computer software firm. DigiCom is about to launch a new virtual reality-based data storage system that is expected to revolutionize the industry, and Bob Garvin (Donald Sutherland), the owner of the company, is in the midst of negotiating a merger that could bring $100 million into the firm. However, while Tom is expecting a promotion, he discovers the position has been given instead to a new hire, Meredith Johnson (Demi Moore), with whom Tom had an affair years ago, before he was married. After her first day of work, Meredith invites Tom up to her office and makes a concerted attempt to seduce him; while Tom doesn't fight off her advances with very much gusto at first, eventually he decides things have gone too far and leaves in a huff. The next morning, Meredith accuses Tom of sexual harassment, and he realizes this was merely a power ploy to get him out of DigiCom for good; Tom, determined to fight, files a counter-suit, which makes him no friends at the company, since rocking the boat too hard could very well scotch the merger. Dennis Miller also appears as one of Tom's wise-cracking co-workers.
Critic Reviews for Disclosure
Audience Reviews for Disclosure
½
The third film in Michael Douglas' sex trilogy, this has always kinda amazed me really seeing as the guy is hardly good looking. Yet I remember this film well upon release, the films poster was raunchy and everybody was talking about the sex scene with Demi Moore. The films main plot was also a big talking point, sexual harassment of a man in the workplace...by a higher grade woman. A concept that was deemed to be impossible and rather un-PC. In all honesty the film was pretty much sold on that one sex scene. But it wasn't even a sex scene, it was more rough and dirty, clearly made to be scandalous and edgy, and it worked. I can't deny its a sexy sequence especially with Moore's provocative and dominating dialog at the same time...'you just lie back and let me be the boss'. This film really brought Moore to my attention. Her dominance and bitchy attitude is incredibly sexy and could easily cause any man a huge moral dilemma, and I guess that is the entire point. After this scene the plot gets nasty as Moore's real character is exposed and she tries everything in her power to bring Douglas' character down. Its all about lies, accusations, trust and mainly power, who has the power, are women as powerful as men in business? or do they actually have more power?. Its an interesting premise which works well and does open your eyes somewhat. Does this happen in reality? to be honest I'm sure it does as in this modern age equality laws for the sexes can easily swing in favour of the female in cases just like this (evidence depending). Bottom line it can/could be very easy for a female in the work place to cause a lot of trouble for a man without the need for immediate hard evidence. As for the film, I think its very good, it grips you and makes you feel uncomfortable. Personally I felt quite nervous throughout the whole film, it really did make me squirm, kudos to everybody involved for that achievement. I also felt compassion for Douglas' character, I wanted him to succeed and prove himself innocent, the direction and performances are very good and all help in locking you in with the plot. Moore really does the powerful bitch role well, its hard to like her here despite the fact most men would have let her 'rape' them in that one sex scene (I know I would have). Its a performance driven film and I think everyone nails it. Sutherland as ever is well cast as the boss, never sure whether he is up to something, always looking kinda shifty, a corporate boss who appears friendly on the outside but cold and merciless on the inside. Kudos must also go to Roma Maffia as Douglas' lawyer, I think her performance is the best in the film!. Her character knows how to play the game, she gives you the viewer confidence, she relaxes you because you know she knows what she's doing, plus she looks like a lawyer too. I'm sure many people will be able to relate to situations like this in their own work place. I think the whole atmosphere of taking sides, rumours, the little digs, plotting, wild accusations, betrayal, the private chats with superiors etc...all are created well within the film, its quite grounded and realistic if you ask me. I think this film ranks highly alongside 'Fatal Attraction', that film exposed the possible flaws in equality between the sexes on the homefront (trust issues), whilst this film exposes it in the workplace. A very good tense legal thriller set completely within the professional world where men supposedly reign supreme. Add some gritty sex, gritty dialog and some fancy visual technology effects (amusingly dated now) and you have a decent drama.
Phil Hubbs
Super Reviewer
I liked it the first time when it was called Fatal Attraction. Yes, this movie reminds you a lot of that one, but it's less exciting. I didn't care for it.
A sort of thriller as an old flame comes back to accuse Michael Douglas character of sexual harassment. Then it gets tied up in corporate politics and legal proceedings. Not bad overall but looking a little didn't and a bit long for a film of this type.
Disclosure Quotes
There are no approved quotes yet for this movie.