Dirty Sanchez: The Movie
(2007)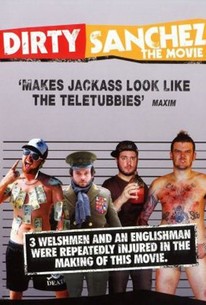 Dirty Sanchez: The Movie Photos
Movie Info
MTV Films Europe and Vertigo Films partner to bring the Jackass-flavored MTV Europe series to the screen as director Jim Hickey follows a group of four daredevils who are challenged by the devil to discover and endure the seven deadly sins. A raunchy world tour of depravity and hilarity, Dirty Sanchez: The Movie combines the extreme stunts of Johnny Knoxville and company with a narrative structure by telling the tale of a stunt gone horribly awry. When an attempt to crash a car through a caravan results in the death of Dainton, Joycey, Pancho, and Pritchard, the fearless foursome are sent straight into deepest depths of hell. It seems that Satan wants to check their credentials before they are allowed to carry on with their reckless lifestyles, and now in order to return to their familiar plane of reality they must embark on a global tour of sin and debauchery. From confronting "anger" in Moscow to greeting "gluttony" in San Miguel and challenging "lust" in Bangkok, the boys all set out to greet and conquer the very sins that mankind has struggled against since the beginning of time. If they win, their prize is immortality and global domination; if they lose, they must bend to the will of Satan himself. With such stomach turning stunts as beer enema shotguns and liposuction drinking games, Dirty Sanchez: The Movie is not for the faint of heart.
News & Interviews for Dirty Sanchez: The Movie
Critic Reviews for Dirty Sanchez: The Movie
Audience Reviews for Dirty Sanchez: The Movie
½
Brilliant and a very sick film, Way more daring than Jackass will ever be, Loved it.
Jamie Clarke
Super Reviewer
½
it is quite funny they do reli stupid stunts but funny not as good as jack ass though
Film Crazy
Super Reviewer
Nowhere near as likeable as the guys from Jackass, the Dirty Sanchez lot make up for it by being A class twats with no apology. Some of the stunts are jus pure gross out, but the best are the ones that are simply funny such as the phone call to the mother and the Russian tattoo. Good for what it is but much more satisfying in half hour doses.
Luke Baldock
Super Reviewer
Dirty Sanchez: The Movie Quotes
There are no approved quotes yet for this movie.