The Dirty Dozen
(1967)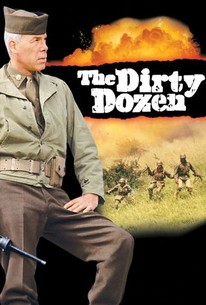 TOMATOMETER
AUDIENCE SCORE
Critic Consensus: Amoral on the surface and exuding testosterone, The Dirty Dozen utilizes combat and its staggering cast of likable scoundrels to deliver raucous entertainment.
Movie Info
Director Robert Aldrich took what he considered a hopelessly old-fashioned script by Lukas Heller and Nunnally Johnson and fashioned The Dirty Dozen into one of MGM's biggest moneymakers of the 1960s--and the sixth highest-grossing film in the studio's history. Lee Marvin plays Major Reisman, assigned to coordinate a suicide mission on a French chateau held by top Nazi officers. Since no "normal" GI can be expected to volunteer for this mission, Reisman is compelled to draw his personnel from a group of military prisoners serving life sentences. This "dirty dozen" includes a sex pervert (Telly Savalas), a psycho (John Cassavetes), a retarded killer (Donald Sutherland), and the equally malevolent Charles Bronson, Trini Lopez, Jim Brown, and Clint Walker. On the dim promise of receiving pardons if they survive, the criminals undergo a brutal training program, then are marched behind enemy lines dressed as Nazi soldiers, the better to overtake the chateau and kill everyone in it--including the innocent wives and mistresses of the German officers. ~ Hal Erickson, Rovi
News & Interviews for The Dirty Dozen
Critic Reviews for The Dirty Dozen
Audience Reviews for The Dirty Dozen
½
A dream scenario for boy soldiers everywhere: train some social rejects to kill and then let 'em loose on the enemy. We never enter reality in this story. It's more like a video game where you choose your character and your favorite idiosyncrasy, and then go killing. What did your granddad dream about before videogames? And like a good videogame, eminently rewatchable.
Kevin M. Williams
Super Reviewer
½
In the 1960's and 1970's so many action films have grace the big screen, providing some truly classic and thrilling moments for the viewer. With an all star cast, director Robert Aldrich crafts a thrilling and exciting action picture that delivers some stunning performances, thrills, humor and memorable action that not even today's action flicks can top. The cast here is brilliant and each brings something to the screen that makes this such a great film. As an action film, The Dirty Dozen ranks as a classic of the genre. The pacing of the film is good and lets the action steadily build up to a killer climax. As far as classic action films are concerned, you have got to see The Dirty Dozen. This is a fun, entertaining film that should please either action fans or war film fans, even though this is not a straight forward war film. Richard Aldrich directs a solid piece of cinematic intensity that will certainly appeal to die hard action fans. This is action to its bare bones, with no fancy special effects, and that's why it is a terrific flick to watch. Brilliant and well acted this is a solid entertaining classic that still is fun to watch even today. The actors chosen play their parts well, and each shine on-screen. Lee Marvin is terrific in the lead role as the Major who commands the Dirty Dozen. Little flaws, but you don't care because this is a nonstop testosterone driven action picture that has great performances, and enough thrills to satisfy the most demanding viewer.
EightThirty .
Super Reviewer
The Dirty Dozen Quotes
There are no approved quotes yet for this movie.