The Dinner Game (Le Dîner de cons)
(1999)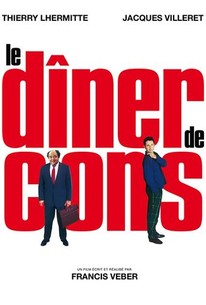 The Dinner Game (Le Dîner de cons) Photos
Movie Info
Francis Veber wrote and directed this film adaptation (with animated opening credits) of his own play, Le diner de cons, about a competition among a group of friends to see who can find the stupidest person to bring to dinner (as indicated by the original French title, since "con" means someone who's a total dumbbell). The dinners are held each Wednesday night, and French publisher Pierre Brochant (Thierry Lhermitte) has found a world class nincompoop -- Finance Ministry accountant Francois Pignon (Jacques Villeret) who uses matchsticks to build small-scale replicas of monuments. Things quickly go awry after Pierre wrenches his back at golf. He nevertheless makes an effort to attend the dinner with his prize dunce. Francois arrives at Pierre's luxury apartment, but Pierre is in such pain they never exit the apartment for the dinner. Instead, Pierre is trapped in a situation where Francois' stupidity turns his life into a comic hell. In 1993, Villeret created the role of the dimwit onstage during 600 performances of a 27-month run, and the play also had a 1994 London production. In addition to Veber's Oscar-nominated screenplay adaptation of Jean Poiret's La Cage aux Folles (1978), reworked into The Birdcage (1996), other American comedies originated in French screenplays by Veber -- The Toy (1982), The Man with One Red Shoe- (1985), Three Fugitives (1989), and Fathers' Day (1997). Shown at the 1998 Cannes Film Festival. ~ Bhob Stewart, Rovi
Critic Reviews for The Dinner Game (Le Dîner de cons)
Audience Reviews for The Dinner Game (Le Dîner de cons)
With the action almost entirely confined to an apartment and centered on unstoppable dialogue from beginning to end, this is a very funny comedy of errors (adapted from Veber's own play) that doesn't try to hide its obvious theatrical origins and yet feels always fresh and dynamic.
Carlos Magalhães
Super Reviewer
Much better fil than the awful Hollywood remake. Thoroughly enjoyable French comedy.
Christian C
Super Reviewer
½
A smart idea for a film is plagued by a poorly written script that is dull, uninteresting. Le Diner de cons could have been a great film, and it might have looked good on paper, but the on-screen result is that of a film that is unfocused, with poor attempt at humor, and yes, I do get French humor, but this film just failed to make me laugh. I expected something really funny with the film, and considering the idea for the film, you'd think it would be one hilarious film. Unfortunately it wasn't. This film as a whole was just long and boring with nothing interesting going on-screen. I think it's a great shame because this film could have been great. Unfortunately it suffers from an underdeveloped script that fails to be very funny. The cast try to save this film from failing, but it does anyway. Director Francis Veber would later redeem himself with The Closet, a much funnier film with a far better cast. This film just doesn't have the comedic elements that make up a good comedy. Most of the comedy falls flat. The films script could have been rewritten to develop better jokes. If you want a good French comedy watch some Louis de funes films and OSS117 instead. Avoid this one; this film simply isn't worth watching. Overall it's a shame that the filmmakers couldn't have made a better film out of this, and the result is a train wreck that just fails on so many levels. Spend your time watching something else, you'll be glad you did.
The Dinner Game (Le Dîner de cons) Quotes
There are no approved quotes yet for this movie.