Diary of the Dead
(2007)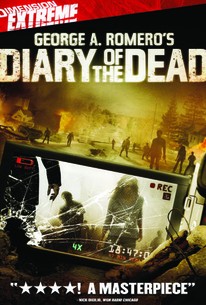 TOMATOMETER
AUDIENCE SCORE
Critic Consensus: As Diary of the Dead proves, time hasn't subdued George A. Romero's affection for mixing politics with gore, nor has it given him cinematic grace or subtlety.
Movie Info
Horror icon George A. Romero effectively hits the "reset" button on his hugely influential Dead series with this scaled-back look at the zombie apocalypse as told from the perspective of a student filmmaker who sets out to shoot a low-budget fright film, but instead captures the breakdown of modern society at the decaying hands of flesh-eating ghouls. Jason Creed (Joshua Close) and his crew are shooting a mummy movie in the Pennsylvania woods when media reports begin pouring in about the dead rising from their graves to feast on the flesh of the living. While self-centered star Ridley (Phillip Riccio) beats a hasty retreat to his family's fortified mansion halfway across the state, the remaining cast and crew are forced to fight for their lives despite having no weapons to speak of, and only a wobbly recreational vehicle in which to seek shelter. Immediately recognizing the gravity of the situation and outspokenly skeptical of the media, determined director Creed decides to use his own camera to capture the real story in a documentary entitled "The Death of Death." Now, as the group attempts to fight their way to safety, the skeptics will all watch as their greatest fears become reality, and the realists will attempt to process a nightmare that modern science would pass off as impossible. ~ Jason Buchanan, Rovi
News & Interviews for Diary of the Dead
Critic Reviews for Diary of the Dead
Audience Reviews for Diary of the Dead
Romero's 'Diary of The Dead' has become his first independent film for years. Personally, it deserves a bit more recognition that what its currently given. Romero still gives some political representation, but not as gripping or obvious. This time the message is; don't believe everything on TV, the truth is more horrific, but everyone deserves it. It sadly doesn't reach the gore levels like Romero's previous films. However, this is still worth a try for any zombie, horror or hardcore Romero fans.
Samuel Riley
Super Reviewer
A group of film students attempt to document the descent of society into chaos as the dead begin to rise again and feast on the living. I had a creeping dread of this film because I had the horrible feeling it would just be The Blair Zombie Project, particularly after witnessing the shapeless waste of an hour and a half that was Cloverfield, but the latest in George Romero's "dead" series actually works reasonably well. The use of multiple cameras intercut with faux internet footage and closed circuit TV gives rather more scope for dramatic momentum than the usual sole first person perspective and the mockumentary approach gives the film the kind of structure woefully lacking in Cloverfield. Unfortunately it still suffers from the unavoidable weakness of this sub-genre. The acting is ropey and dialogue weak for the sake of "realism", despite the fact that somebody constantly filming while all these horrific events are happening to them is of course inherently unrealistic. But as a whole it's rather more intelligent than other offerings of this type, providing a little social commentary and sly digs at the media and the public's obsession with same. It's more a collection of decent moments than a credible and coherent story, but still probably the best example of this kind of thing I've seen and an adequate addition to the franchise.
As of now, one of the main types of horror films that are taking reign as being the main ones made are the 'Found Footage' genre. In case you do not know, found footage is a genre that is a horror film that is filmed like a documentary on a certain event; characterized by shaky cameras. Examples include Cannibal Holocaust, The Blair Witch Project, and Rec/ Quarantine. Diary Of The Dead is George A. Romero's take on this genre with his famous zombies and what is created is a film that is not terribly smart, but entertaining to say the least with a great political backdrop like most of his films have. Now, the direction of this film, as I have said, is different than the other films in the '... Of The Dead" franchise. With the use of shaky cameras, it gives more chances for scares that, in some ways, actually work and become effective. With the production quality, the only thing that really has improved are the gore effects which there are plenty of (as you can tell, it is not best to watch this if you hate gore). Some times it looks cartoonish and at times it looks good. So, that is a mix bag. Now we have the characters that try to survive this entire ordeal. For the most part, the actors were one dimensional with constant arguments over filming this epidemic and, to be honest, that did take away from the film a bit. The score for this film, unlike most recent horror films, actually works with creating the suspense with the film. There were a couple times here and there that I think it should have been different, but it is not that much to complain about. Now, finally, how good the allegory for this story was. Like with all of Romero's zombie films, there is an underlining message. Here it has to deal with people's usage of the internet and how dependent we are. The use of this allegory, and how it works with the zombies, I feel got the point across, but I doubt most others will get it. So, overall, my main opinion is this: to the general audience, this will be a rather unintelligent but fun zombie film to watch, but try looking for the underlining themes and understand what is really being said. A little fun fact: look for the cameos of Stephen King, Quentin Tarantino, Guillermo del Toro, Wes Craven, and George A. Romero!
Zach Brehany
Super Reviewer
Diary of the Dead Quotes
There are no approved quotes yet for this movie.