Diary of Forbidden Dreams
(1973)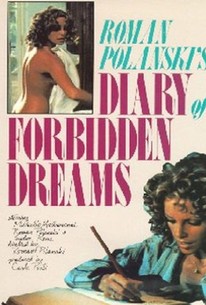 Movie Info
Roman Polanski's surreal story of a hitchhiker's sexual odyssey. Sydne Rome, Marcello Mastroianni. Joseph: Hugh Griffith. Giovanni: Romolo Valli. Priest: Guido Alberti. Tony: Gianfranco Piacentini. Jimmy: Roger Middleton. Mosquito: Roman Polanski.
Critic Reviews for Diary of Forbidden Dreams
Audience Reviews for Diary of Forbidden Dreams
½
If you wonder why a film Roman Polanski directed during his prime is so forgotten, you obviously haven't seen "What?" Alternately known as "Diary of Forbidden Dreams" (ugh), this voyeuristic romp seems descended from Terry Southern's "Candy" and Playboy's "Little Annie Fanny" comic. Except it's not funny. It's barely even sexy. Curly-haired beauty Synde Rome stars as Nancy, an American hitchhiker who flees a poorly chosen ride in Italy and stumbles into a luxurious, beachfront getaway. Like Candy and Annie, she's a naive, manipulable blonde who somehow keeps losing her clothes. Aww, how embarrassing for the poor dear. During most of the film, she has one leg painted blue and wears only a borrowed pajama top. It's not worth explaining. The idyllic home is owned by an old invalid (character actor Hugh Griffith, Britain's answer to Jack Elam). But he has multiple guests and caretakers, including the ubiquitous Marcello Mastroianni. Marcello takes a shine to sweet Nancy and soon has her indulging his favorite fantasy, which involves being playfully whipped as he crawls around in a tiger skin. Grrr. In a later scene, Marcello talks to a tree. This was not his proudest role. Other visitors include a woman who casually walks around nude, a Mozart-loving pianist (his duets with Nancy are quite enjoyable as music), two ping-pong addicts and a hip priest who eventually gets kicked in the groin. Most of them have some sort of lurid interest in Nancy. Polanski himself appears as a trivial imp nicknamed "Mosquito." It's easy to see why women found him so adorable. Rome is not a bad actress, and indeed is still working today. But even Mastroianni can't salvage this tired, aimless script. Following this disaster, Polanski's next project was a little noir tale called "Chinatown."
Eric Broome
Super Reviewer
The copy of this I rented from the library was pretty messed up, but from what I saw, this was a good movie. An interesting comedy from Polanski.
½
Escaping from an attempted rape, an American ingenue (Sidney Rome) hitchhiking through Italy loses her clothes and finds a villa populated with eccentric characters, including a lecherous ex-pimp (Marcello Mastroianni). An absurdist sex comedy that's plenty absurd, mildly sexy, and not one bit funny. Roman Polanski sandwiched back-to-back flops (MACBETH and this) between the classics ROSEMARY'S BABY and CHINATOWN in an attempt to win the title of "most uneven director in history."
Diary of Forbidden Dreams Quotes
There are no approved quotes yet for this movie.