Diary of a Wimpy Kid
(2010)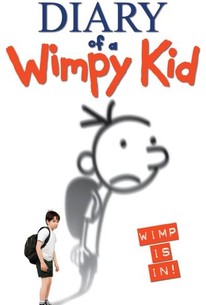 TOMATOMETER
AUDIENCE SCORE
Critic Consensus: Unlike its bestselling source material, Diary of a Wimpy Kid fails to place a likable protagonist at the center of its middle-school humor -- and its underlying message is drowned out as a result.
Diary of a Wimpy Kid Photos
Movie Info
Meet the kid who made "wimpy" cool in a family comedy based on the best-selling illustrated novel Diary of a Wimpy Kid by Jeff Kinney, the first in a series that has thus far sold 24 million copies. "Diary of a Wimpy Kid" chronicles the adventures of wise-cracking pre-teen Greg Heffley, who must somehow survive the scariest time of anyone's life: middle school.
News & Interviews for Diary of a Wimpy Kid
Critic Reviews for Diary of a Wimpy Kid
Audience Reviews for Diary of a Wimpy Kid
Out of all teen films dealing with a new school, this is definitely the best to me. I haven't read the source material that his film was based on, but I'm sure it does a good job at following the series of books. This is a perfect film to show a kid who is now going into middle school, and the kids in this film all do great jobs at acting in this, and all of them are genuinely funny. The way how they use the cartoon drawings and animate them is very cool to watch and very interesting to look at. To me the best thing about this whole movie aside from the main actor and storytelling, is the music. The music for this film was picked perfectly, Beasty Boys Intergalactic for the Mother Son dance scene is very funny to watch, and very goofy to watch, but the best song in the movie is the ending credits song, "What Do You Want From Me" by Forever the Sickest Kids, its very energetic, well played by the group, and is very catchy to listen to.
Michael Edwards
Super Reviewer
This movie is so bright, amusing and sweet that it feels like only half an hour. It made me laugh real hard and I was surprised to see that it doesn't give in to easy stereotypes nor to cheap moral lessons, remaining mostly human, honest and pretty funny.
Carlos Magalhães
Super Reviewer
Adapted from the bestselling books, 'Diary Of A Wimpy Kid' hits all the right notes in something which utterly is for all of the family. Starring the excellent Zachary Gordon in his first major role as the central protagonist Greg Heffley, 'Wimpy Kid' tells the story of a wimpy dork, who through the use of his diary, which he repeatedly tells people is a journal, tells us of his first days in middle school in the US. Its witty and clever direction is impressive, especially when the crew are working with one of the three golden don'ts of cinema, children. All of the children act well, especially supporting best friend Robert Capron and older brother Devon Bostick. As well as wonderful, although short, performances from Rachael Harris and Steve Zahn, Thor Freudenthal brings together a nice set of characters. The script and story itself is just a collection of stories in his first year at the school, but they are linked together nicely through the story of his friendship with embarrassing but lovely best friend Rowley. For kids the film has plenty of gags, which parents will enjoy too. But the very nature of the film, and the fact that Greg Heffley is a child who believes he knows everything will appeal to parents and older kids, such a myself, as well. It's a mickey take, and the protagonist doesn't have to be liked or loved. Instead, as we walk with the character through his first year, we learn to love him. The theme of the whole story isn't produced in a grand spectacle, but isn't done terribly either. It's nothing special on that front, but the cross-audience appeal and wide selection of funny moments, topped off with the book's style animation makes 'Wimpy Kid' an appealing, but unlikely treat.
Adam Kelly
Super Reviewer
Diary of a Wimpy Kid Quotes
There are no approved quotes yet for this movie.