The Devil's Rain
(1975)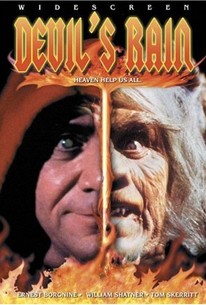 Movie Info
A man's search for his missing family leads him into conflict with a pagan cult lead by a centuries-old warlock in this supernatural thriller. The warlock is searching for a powerful occult book but must first do battle with the revenge-minded hero.
Critic Reviews for The Devil's Rain
Audience Reviews for The Devil's Rain
An okay horror movie, it's one of those where a devil worshiping cult is trying to get revenge for the witch hunts. The biggest problem, I think, is that it takes place in the west, which doesn't make much sense. Plus, all the melting face guys get annoying after a while. A good cast, but maybe it would have been better with a different director and crew?
Seriously I thought this Movie was a Joke.
½
There are a lot of good scenes in this movie, but they just don't connect well to form a cohesive story. There was a great opening scene where William Shatner and Ernest Borgnine battle wits in a creepy ghost town. There's a strange scene with of John Travolta; you hardly recognize him as he runs down a staircase like a maniac, and melts without saying anything. It's great seeing Ernest Borgnine turning into a goat-devil. There is long scene at the end where the entire Devil cult melts from the Devil's Rain. It has a very 1970's B-Movie feel to it all. It's a spectacle of scenes, with little of a plot.
Lafe Fredbjornson
Super Reviewer
The Devil's Rain Quotes
There are no approved quotes yet for this movie.