The Devil's Brigade
(1968)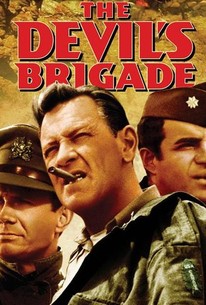 The Devil's Brigade Photos
Movie Info
During the early days of World War II, while the United States was massing its forces for the war, England hastily plans commando raids against the German forces to keep them at bay until America's troops enter the war. As a part of this plan, the Allies create the 1st Special Service Force to plan and carry out an attack on Norway in order to tie up the German forces. This commando force of Canadian soldiers and American GIs is headed by Lt. Col. Robert T. Frederick (William Holden), a paper-pusher given his first field command. Antagonism immediately erupts between Canadian Maj. Alan Crown (Cliff Robertson) and American Maj. Cliff Bricker (Vince Edwards). But Frederick utilizes their mutual dislike as a basis for a rivalry that turns this rag-tag group of misfits into a disciplined fighting force. But now that Frederick's men are ready to fight, Frederick receives word that the Norway mission has been canceled. After appealing to Washington for another assignment for the commandos, the brigade is sent on a patrol near the German lines in southern Italy. The brigade captures an enemy-held village and is then given the seemingly impossible task of taking Mt. La Difensa.
Critic Reviews for The Devil's Brigade
All Critics (5) | Top Critics (1) | Fresh (3) | Rotten (2) | DVD (1)
There was doubtless stupidity on both sides during the war; there's certainly no lack of it in The Devil's Brigade.

Only the stuntmen excel in this star-studded but inane war film filled with tiresome cliches.
Audience Reviews for The Devil's Brigade
½
An all-star cast of character actors, playing misfits and incorrigibles, are given to desk jockey William Holden (!) to turn into a more-than-capable fighting force. Based on a true story, one half of the recruits hate the other half, putting into serious question whether or not any goals can be achieved. But guess what? In any case, the effort comes across like the Dirty Dozen's kid brother, capable and well meaning, but not up to the task.
Kevin M. Williams
Super Reviewer
The Devil's Brigade is a very good and entertaining war film that tells the story of a team of Special Forces mixed up of Canadian and American soldiers during the Second World War. Although not perfect, this is still an engaging movie that is a must see for any war film fan. The cast do a fine job with the material, but it could have been done better at times, considering that the real life Devil's Brigade are true icons of Special Forces warfare. The true story is quite interesting, and this film can peek your interest into the subject as well. However there are parts that are pretty slow, and really should been reworked a bit to really make this a standout war film. The film was viewed as a rip off of the Dirty Dozen, but that is not true. I view them to be separate movies, and each is very different. What we have here with the Devil's Brigade is an exciting war film that chronicles the exploits of the famed regiment. This is a film that is worth seeing if you're interesting in a true story about some truly courageous soldiers. The film may be inaccurate at times, but it has enough going for it to make for a worthwhile film going experience. The Devil's Brigade is an entertaining film that is sure to appeal classic war film fans as well as history buffs. However to get the full story of the brigade, read up on them in books and multiple articles on the net. This is an entertaining film, but one that leaves a lot to be desired. Despite this, it's a film worth seeing.
The Devil's Brigade Quotes
There are no approved quotes yet for this movie.