The Devil's Backbone (El Espinazo del diablo)
(2001)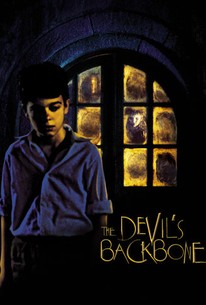 TOMATOMETER
AUDIENCE SCORE
Critic Consensus: Creepily atmospheric and haunting, The Devil's Backbone is both a potent ghost story and an intelligent political allegory.
The Devil's Backbone (El Espinazo del diablo) Photos
Movie Info
The mournful fable of the Santa Lucia School during the last days of the Spanish Civil War. An imposing stone building set on a desolate plateau, the school shelters the orphans of the Republican militia and politicians, and other abandoned children. Upon his arrival at Santa Lucia, 10-year-old Carlos is confronted with the hostility of Jaime, the oldest of the children. Besides aged professor Casares, the adult personnel of the school includes Carmen, the steely headmistress; Alma, another teacher; Conchita, the cook; and the young caretaker Jacinto. Aggressive and greedy, Jacinto is filled with hatred for the school that houses him and the teachers that raised him. Gradually, Carlos uncovers the dark ties that bind the inhabitants of the school, including the secret that haunts them--Santi, a student who was brutally murdered, and whose pale ghost now wanders the grounds. Who killed Santi on the night when a bomb fell in the center of the courtyard, miraculously without exploding?
News & Interviews for The Devil's Backbone (El Espinazo del diablo)
Critic Reviews for The Devil's Backbone (El Espinazo del diablo)
Audience Reviews for The Devil's Backbone (El Espinazo del diablo)
The Devil's Backbone is more sad than frightening. It focuses on the children in an orphanage with nowhere to turn to as the Spanish Civil War soon empties on their doorstep. While the ghost of Santi is truly unnerving, the film reflects a common theme in Guillermo del Toro's films - that humans are the worst kind of monsters.
Edward Boxler
Super Reviewer
Guillermo del Toro's The Devil's Backbone is a stunning, atmospheric horror tale that keeps you on the edge of your seat from start to finish. Del Toro viewed this as one of his most personal efforts, and unlike his other films, this film really goes deep into the horror genre, and in turn delivers a tense, terrifying film going experience. del Toro's direction is terrific and the script is well thought out with plenty of twists and turns to make for an exhilarating and terrifying film going experience. For me, del Toro is a unique director in the horror medium, as he has made several genre pictures that really stood out. Cronos and Mimic are proof of that. Both different films, yet they brought a whole new level of creativity to the medium, which is refreshing to see as well. This is an effective ghost story that is sure to appeal to genre fans, and for viewers looking for engaging horror tale, The Devil's Backbone is one such film that delivers what you'd expect from a del Toro picture. In terms of storytelling, this is a richly detailed film that grabs your attention from the first frame onwards. For fans that enjoy a good old fashioned ghost story, this will surely appeal to you. Del Toro always has a unique vision for his films, and with this film we get a different type f film, but it still nonetheless possesses everything you'd expect from a del Toro picture. His films tend to have a great sense of storytelling aided by powerful visuals. With The Devil's Backbone we get a surprisingly well crafted horror film that will stick with you long after you've seen. The film is one of the best foreign supernatural horror films that I've and it showcases Guillermo del Toro's great talents as a filmmaker perfectly.
Fantastic ghost story, brooding and menacing, always tense and brilliantly acted.
Stuart Brooks
Super Reviewer
The Devil's Backbone (El Espinazo del diablo) Quotes
There are no approved quotes yet for this movie.