Deuce Bigalow: European Gigolo
(2005)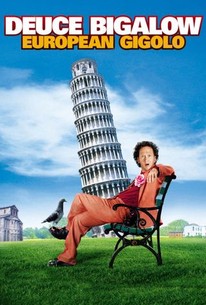 TOMATOMETER
AUDIENCE SCORE
Critic Consensus: A witless follow-up to the surprise 1999 hit, Deuce Bigalow: European Gigolo is raunchy, politically incorrect, and not particularly funny.
Deuce Bigalow: European Gigolo Videos
Deuce Bigalow: European Gigolo Photos
Movie Info
Women of the world beware -- the world's least likely male pleasure machine is back in business and breaching international boundaries in this sequel to the comedy hit Deuce Bigalow: Male Gigolo. Despite his lack of enthusiasm for his career as a lover-for-hire, Deuce (once again played by Rob Schneider) is back to work as a gigolo when his former manager T.J. Hicks (Eddie Griffin) is accused of murdering a number of male escorts in Amsterdam. Needing to raise money for his friend's legal defense, Deuce is once again showing off the tricks of the trade in the European theater, while also dealing with the less-than-genial European Union of gigolos, a British school for male prostitutes, and some truly puzzling female clients. ~ Mark Deming, Rovi
News & Interviews for Deuce Bigalow: European Gigolo
Critic Reviews for Deuce Bigalow: European Gigolo
Audience Reviews for Deuce Bigalow: European Gigolo
Full of senseless gags, pointless morals and poorly disgusting humor. Deuce Bigalow: European Gigolo's poor comedy attempts and overall terribleness signifies it being one of the worst, if not, the worst film of 2005. The film is pathetic in ways that will probably leave a bad taste in Europeans' mouths about Americans (as if they did have one already) 0.5/5
Eugene Bernabe
Super Reviewer
Sequel to the already awful Deuce Bigalow, this film steps up a notch makes the first film seem funny by comparison. This film was trash and I absolutely hated it. I felt that the film was terrible, and the fact that it got made is a miracle. The biggest problem with Rob Schneider comedies is that they're not funny, and the guy sucks at comedy. His comedic act wore out after Down Periscope, where he at least was funny. But afterwards he just played the same character over and over again; Schneider is one of those "comedians" that only have one joke in their back their entire career. In the end it's sad. This sequel is just as sad as Rob Schneider's "career". As far as sequels are concerned, this film really scraps the bottom of the barrel of ideas. The film doesn't do anything really interesting, and the film is laugh free comedy that is a pure waste of time, Deuce Bigalow: European Gigolo should never have been made, and the jokes fall flat, and there are definitely no memorable gags in this film. This is the type of comedy film the scraps the bottom of the barrel to try and create something humorous. Unfortunately everything this sequel to an already bad film. The jokes are so poorly developed and unimpressive, that this film simply isn't funny, and you realize how terrible Rob Schneider is as a "comedian". Yet another stupid film with no jokes. This is one comedy that has no laughs and the film doesn't even make you smirk. The only thing this film does is make you angry that you wasted your time on such a crap comedy.
½
This is not quite Deuce Bigalow, Male Gigalo, as most of the fun storyline happened in the first film, a couple of funny moments pop up, but not a great sequel.
Lady D'arbanville
Super Reviewer
Deuce Bigalow: European Gigolo Quotes
There are no approved quotes yet for this movie.