Detroit
(2017)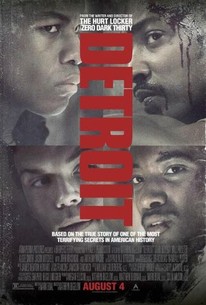 TOMATOMETER
AUDIENCE SCORE
Critic Consensus: Detroit delivers a gut-wrenching -- and essential -- dramatization of a tragic chapter from America's past that draws distressing parallels to the present.
Movie Info
From the Academy Award winning director of THE HURT LOCKER and ZERO DARK THIRTY, DETROIT tells the gripping story of one of the darkest moments during the civil unrest that rocked Detroit in the summer of '67.
News & Interviews for Detroit
Critic Reviews for Detroit
Audience Reviews for Detroit
Director Bigelow again proves to be a master of the realistic depiction of recent historic events with this drama about the Detroit riots of 1967 and racist police brutality that night. While the film takes its time to set the scene and introduce the characters, it's interesting right from the start. Once the situation at the motel gets dire, camera work, editing and the outstanding acting take you right there, taking no prisoners in those incredibly uncomfortable and enthralling 90 minutes. The aftermath will make you just angry, but it's important nonetheless. Just like the realization that this film's events feels oddly current, even though they aren't.
Using a nervous handheld camera and intercutting what we see with real archive footage to create the same documentary-like feel of her previous films The Hurt Locker and Zero Dark Thirty, Bigelow exposes with gripping realism a revolting chapter in American History.
Carlos Magalhães
Super Reviewer
Something akin to an art house exploitation film, Kathryn Bigelow's Detroit is a pressure cooker about the horror of institutional racism, but it's also a limited drama that lacks any sense of catharsis for an audience. Set among a hellish series of days in 1967, the film follows the events at the Algiers Motel, where Detroit police officers killed three innocent black men in their pursuit of what they believed to be a sniper. An all-white jury then acquitted the officers. Will Poulter (We're the Millers) plays the lead racist cop and instigator, the man who tries using every effort to get a confession. His bad decisions lead to further bad decisions and miscommunication and then cold-blooded murder. It takes a solid 45 minutes to establish the various supporting characters, the fragile tinderbox that is Detroit during a series of riots, and getting everyone to the fateful motel. Afterwards, it's like a real-time thriller that's extremely harrowing to watch. It's very intense and very well made by Bigelow and her go-to screenwriter Mark Boal (Zero Dark Thirty). Like Get Out, it turns the day-to- day American black experience into a grueling horror film. I was squirming in my seat and felt nauseated throughout much of the movie. I wanted to scream at the screen and tell people to stop or run away. However, it's a movie with a lower ceiling, whose chief goal is to provoke primal outrage, which it easily achieves, but it feels like there's little else on the artistic agenda. The characterization can be fairly one-note, especially with the racist cops who stew over white women hanging around virile black males. It's victims and victimizers and we get precious little else. Your blood will boil, as it should, but will you remember the characters and their lives, their personalities, or mostly the cruel injustices they endured? It's an intense, arty, exploitation film, and I can perfectly understand if certain audience members have no desire to ever watch this movie. It's not so much escapism as a scorching reminder about how far race relations have come and have yet to go in this country. Detroit is a movie with plenty of merits but I think it's the least of the three major Bigelow-Boal collaborations. Nate's Grade: B
Nate Zoebl
Super Reviewer
Detroit Quotes
There are no approved quotes yet for this movie.