Detective Story
(1951)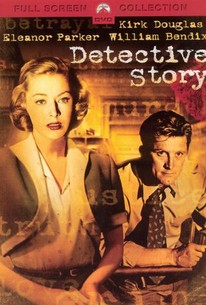 Movie Info
Sidney Kingsley's Broadway play Detective Story was praised for its realistic view of an event-filled day in a single police precinct station. The film, directed by meticulous taskmaster William Wyler, manages to retain this realism, even allowing for the star-turn performance of Kirk Douglas. A stickler for the letter of the law, Detective James McLeod (Douglas) is not averse to using strong-arm methods on criminals and witnesses alike in bringing lawbreakers to justice. He is particularly rough on a first-time offender (Craig Hill), on whom the rest of the force is willing to go easy because of the anguish of his girlfriend (Cathy O'Donnell). But McLeod's strongest invective is reserved for shady abortion doctor Karl Schneider (George MacReady); McLeod all but ruins the case against Schneider by beating him up in the patrol wagon. When McLeod discovers that his own wife (Eleanor Parker) had many years earlier lost a baby in one of Schneider's operations, and that the baby's father was gangster Tami Giacoppetti (Gerald Mohr), it is too much for the detective to bear. Punctuating the grim proceedings with brief moments of humor is future Oscar winner Lee Grant, reprising her stage role as a timorous shoplifter; it would be her last Hollywood assignment until the early 1960s, thanks to the iniquities of the blacklist. Despite small concessions to Hollywood censorship, Detective Story largely upheld the power of its theatrical original, and it forms a clear precursor to such latter-day urban police dramas as NYPD Blue.
Critic Reviews for Detective Story
Audience Reviews for Detective Story
Kirk Douglas succeeds in embodying all the strengths and fatal flaws of detective on the beat. It is an average day at the police station but one that is tremendously filled with drama.
John Ballantine
Super Reviewer
My second favourite Kirk Douglas movie. He plays a detective perfectly, the dialogue is great, the rest of the cast is great, the story is exciting, and it all takes place in one day. One of my favourite movies.
Truly a performance based movie that really shouldn't be treated as anything else. While it lacks powerful direction and style, I don't think there was ever any intent to have either of those. You stay involved for the larger than life performance from Kirk Douglas as the most black and white cop to ever roam the streets of New York. You can clearly see this is better suited as a play and didn't necessarily need to make the jump to screen, but I'm pleased anyway.
Conner Rainwater
Super Reviewer
Detective Story Quotes
There are no approved quotes yet for this movie.