Despido procedente
(2017)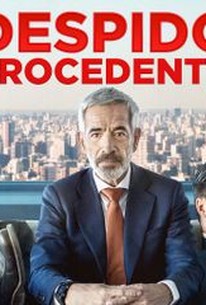 AUDIENCE SCORE
Critic Consensus: No consensus yet.
Despido procedente Photos
Movie Info
Javier (Imanol Arias), an executive of a multinational, makes a small mistake; Indicates badly an address to a stranger who asks him in the street ... (Darío Grandinetti). This mistake will become his worst nightmare when the stranger starts harassing him claiming compensation for the failure. The situation is even more tense with The appearance of Sam (Hugo Silva), Javier's direct competition with who will have to compete to keep his job.
Critic Reviews for Despido procedente
All Critics (3) | Fresh (2) | Rotten (1)
Giving a wrong address is the brilliant... premise that triggers a series of catastrophic misfortunes about the troubled life of this Galician in Buenos Aires.[Full review in Spanish]
... a film with too many narrative detours... [Full review in Spanish]
We do not know if it's a satire, a suspense or even a criminal plot and disappoints. [Full review in Spanish]
Audience Reviews for Despido procedente
½
So, there's very few movies that do this, but I'm completely stumped. I don't know where to begin this review and how to end it. Well, ending it will be easier than starting it. I suppose it should be obvious that, if you're a developed country, then, sadly, sooner or later your country will fall on tough economic times. My country is one of those right, after Hurricane Maria completely destroyed the island. Our economy was projected to be so bad, this is in 2017, that we were expected to be one of the world's worst economies in 2018. Seriously. That's how bad the hurricane was. And things prior to the hurricane weren't great to begin with. There was a mass exodus of our people to the U.S (where we have legal citizenship), simply because people needed jobs to take care of their families. And, I guess, you could say that this movie deals with that, but in a smaller-scale focus in that it shows Javier, a Spaniard, who's an executive at this company, trying to avoid mass firings as a result of a merger, or something. Quite frankly, and this is the biggest problem that I feel the movie faces, is that I'm never quite sure exactly what is going on at any given time. Regardless, the movie deals with Javier's life being made a living hell by this man he gave wrong directions to for this job interview he had. And these are really the best parts of the film, even if I felt that the movie was a little bit repetitive in Javier and Ruben's feuding. Obviously, nothing in the narrative is as simple as Ruben is really trying to blackmail Javier just because he lost out on a job interview. Things go much deeper than that. Javier trying to avoid mass firings, as his division and others are gonna be fused together, has everything to do with why Ruben is doing what he's doing. So the story then becomes what Ruben's endgame is and what he's trying to accomplish and who he's trying to accomplish it for. I suppose first things first and that is that the movie has a strong cast. Imanol Arias and Dario Grandinetti, Javier and Ruben respectively, are both great in this movie. They really are. There's something about Dario's performance that I really liked and I can't really put my finger as to what it was that I liked about it. Maybe it's his give-no-fucks attitude that I wish to carry with me for the rest of my life. But he's really good here. Imanol Arias does a good job here as well, but there's something about his appearance that gives off the vibe of a corporate asshole. That dissonance, at first, made it difficult to buy into him as our 'hero'. Obviously, you eventually grow to like the man, considering that he's, pretty much, being fucked left and right by everyone around him when all he's trying to do is keep his employees from getting canned by the higher-ups. Eventually, and this will spoil things for RottenTomatoes, you find out that Ruben has been hired by Omar to make sure that Javier resigns from his position, because he feels threatened by Javier's appointment to the board...or something. And, again, this is the biggest problem in the movie. The fact that, honestly, I don't know what's going on. I mean I certainly know what's going on, but the way the movie handles it isn't exactly inviting to viewers. Another thing I had a problem with is the fact that Ruben and Javier didn't team up to take down Javier, and by extension the company, sooner. I think they wait until, maybe, the last 20 minutes to do so. Personally, I think it would have been better had we seen Ruben and Javier interact more as a group instead of enemies because, by the end of the flick, they try to sell you on the idea that Javier and Ruben became close friends. And that's fine, I think Imanol and Dario do a good job at giving that vibe off, but it feels like it comes out of nowhere. There's no real set-up to this for it to feel like they really became friends. It just feels like the stereotypical happy ending you'd get out of movies like these. Then again, nobody in the company faces any real consequences and the dog-eat-dog mentality continues to exist in the company, but Javier and Ruben are happy and they have money to start their own business together. I don't know, this is definitely a mixed bag. Firstly, I think there's potential here for a deliciously dark comedy featuring some social commentary and, really, you could make the case that it still has some of that. But it doesn't have nearly enough of it for it to make much of an impact. The narrative is poorly handled in that sometimes you don't even know what's going on or why it's happening. The casting is certainly good and the movie relies on them to do all the heavy lifting. Having said that, I don't think this movie was bad in the slightest. It just lacks a consistent comedic tone and a better handling of its narrative. If it had that, I would not have had any problem giving this a higher rating. As it stands, the 2.5 is accurate. This is a decent movie and, really, those are difficult to make as it is. Watch at your own risk.
Jesse Ortega
Super Reviewer
Despido procedente Quotes
There are no approved quotes yet for this movie.