Despicable Me 2
(2013)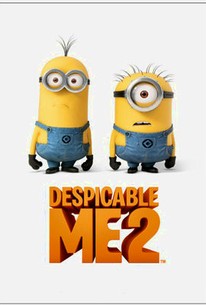 Movie Info
Universal Pictures and Illumination Entertainment's worldwide blockbuster Despicable Me entertained audiences around the globe in 2010, grossing more than $540 million and becoming the 10th-biggest animated motion picture in U.S. history. In summer 2013, get ready for more Minion madness in Despicable Me 2. (c) Universal
News & Interviews for Despicable Me 2
Critic Reviews for Despicable Me 2
Audience Reviews for Despicable Me 2
Judging by the title this must be the follow up to the mildly original animated supervillain flick...by jove it is! Now that first film was cute and reasonably fresh, fresh in the sense that the main character Gru was quite a nice design and voiced nicely by Carell. Also the 'minions' were a neat little invention that did garner the bulk of the giggles and kept the film afloat. The down side was it was yet another superhero/supervillain/super spy parody/spoof type flick which has become a saturated genre. The big question for me was simply...did we really need this sequel? my answer to that is no. Yeah yeah I know I sound like a Scrooge but come on, really, this film has been so padded out its painful. The plot is so damn linear, supervillain up to no good, someone has to stop him, that someone is Gru. The first film had the neat little twist that the main character was a villain and becomes a goodie, switches sides. This time its just you're bog standard run of the mill superhero/super spy flick. The problem for me her was nothing really interesting happens, there is nothing to explain, no reason for anything at all. Gru is now a good guy, he's got out of the villain/hero/spy game and he's looking after those sickeningly cute kids which he adopted from the first film. That's it! there is nothing more, did we really need a new film to show us this? oh yeah Gru gets a call to help the 'Anti Villain League' to stop some other villain blah blah blah who cares. The point is none of this was needed, the first film was a reasonably decent quirky animated film that worked well on its own, there was no need to milk it Hollywood sheesh! What I wanna know is what are these minions exactly? what do they speak? where do they come from? and how many of them are there?! In this film there appears to be like...hundreds n hundreds of em! Yes its just a kids espionage cartoon and its not important as such but its just something I'm curious about. I mean sure the film looks great as do all animated films these days, but there is just nothing on offer here that warrants the sequel. One or two new characters amongst all the same visual gags, visual action, childish minion tomfoolery, gadgets and general super spy-like jiggery pokery. OK call me a misery but none of it felt worth it to me, it all fell totally flat, lifeless and stale. One thing I will mention is actually how scary it could be for kids. When those little yellow minions get turned into purple monster zombie minions the film does take a turn to the slightly eerie side. Especially the sequence where one of them is chasing the kids, Jesus its almost like a homage to 'Alien'! End of the day it doesn't really matter how eye blisteringly good the CGI is, if its all the same stuff trundled out all over again from the first film it will just feel like a cheap merchandise machine to me. The finale isn't too bad and ups the excitement somewhat but it still can't detract from a very anti climatic ending. The very final sequence with the kids right at the end is so disgustingly sickening I virtually gagged...good grief (mental note...its a kids film, its a kids film). Anyway no originality whatsoever anywhere, but bottom line if you liked the first then you'll like this I guess. I thought the first was reasonable but nothing overly special, so for me this has gone downhill. Am I being too hard on a kids film? well maybe but the film is so revoltingly sweet n sugary at times with zero originality I just can't sit back and not say it out loud.
Phil Hubbs
Super Reviewer
Slight step down from the original, Despicable Me 2 is nonetheless a fun, entertaining follow up to the original that works well because there are enough comedic moments to make this a worthwhile sequel. The film isn't perfect, but that's the case with sequels. I enjoyed this film despite its shortcomings and the voice cast are great here as well. The film's story is quite good as well, and they toned down the elements a bit, which in a way is why the film doesn't match the first. Nonetheless for a follow-up this succeeds where many sequels fail. For fans of the first movie, there are enough aspects to enjoy here, and it does have the vibe that made the first so good, but at times it does a few things to be desired. However, the main thing that made this film very enjoyable were the minions, they were a big part of the film's appeal, and they really were funny and made me enjoy the film that much more. The material presented here works well, and it's a far better sequel than most that I have seen. With a well crafted screenplay, great voice cast, wonderful animation, Despicable Me 2 is a worthwhile and highly enjoyable picture that will certainly appeal to any age group as well as fans of the original. This is a memorable animated feature, even if it's a slight step down, it's far better than many sequels that fail to capture the essence of what made the original so much fun. This film has that, and we see the result on-screen. With plenty of laughs, a good story and wonderful animation, this sequel is very good, and well worth your time if you enjoyed the first film.
½
When it comes to sequels, there are a small number which are widely considered to be better than the originals: The Empire Strikes Back is better than Star Wars, The Godfather Part II is better than The Godfather, Evil Dead 2 is better than The Evil Dead, and so on. But while live-action examples are relatively easy to come by, there are very few animated films whose sequels are a genuine improvement. In the modern era, the standard for animated sequels has been set by the Toy Story series, with Toy Story 2 and 3 garnering just as much praise as the first film, if not moreso. Many animated franchises have tried to match the standard set by it, with only Shrek 2 from Dreamworks coming close over the last couple of decades. Despicable Me 2 may not rank up with those films, but it is a marginal improvement on the original, being funnier, better written and more enjoyable. One of the big problems with the original Despicable Me was that its story was rather thin. The film felt like a villain-of-the-week TV episode which had been strung out to 90 minutes with a lot of unnecessary build-up. There was still a certain amount of pleasure in the central conceit (a man trying to steal the Moon), and the relationship between Gru and the girls eventually became more than simple padding. But it still felt in places like a story that needed a lift, something a little more ambitious to fully kick it into gear. Despicable Me 2 solves that problem, giving us a somewhat better story which develops the characters from the first film. In terms of character development, it's similar to the arc in the original, with the focus being on Gru confronting childhood fears while dealing with a task in his everyday life. But where the first film saw him stand up to his overbearing mother by proving his worth as a foster father, in this film he deals with feelings of romantic inadequacy as a child by giving his newly-adopted daughters the mother they have always wanted. Much like the first film, these emotional developments are played with a feather-light touch and unfold largely within the boundaries of generic convention. We're quite used to seeing klutzy female characters who want to impress their bosses (in Legally Blonde, for example), and Kristen Wiig gets to do the same kind of fast-talking wisecracking that made her such a hit in Bridesmaids. But the relationship between Gru and Lucy does come across as believable and entertaining, and as long as we're having fun the familiar elements don't seem to matter so much. Despicable Me 2 is also more heartwarming than the original. Beyond its many plot points about evil minions, going undercover in shopping malls and so forth, it's basically a story about well-meaning people wanting to protect and provide for those closest to them. While the first film was occasionally hampered by a Dreamworks-esque desire to be arch and hip, this is more content with its tone and direction; it's happy to let the romance unfold and be shaped by its particular sense of humour. In my review of The Pirates! In An Adventure with Scientists!, I argued that the difference between a convention and a cliché lies in "the emotional response that surrounds it: if we are enjoying ourselves, it's a convention, and if not, it's a cliché." In the case of Peter Lord's film, this was invoked to defend the more familiar elements in the face of Aardman's incredible craft and fantastically funny script. And while the level of craft on Despicable Me 2 is perhaps not quite as high (or at least not so obvious), this same argument still applies. Because the film is more comfortable within its own skin, all the touches which could otherwise feel derivative become more like enjoyable nods to other stories. The scene where the car drives off the pier and turns into a submarine is a clear and loving nod to The Spy Who Loved Me, while the whole underwater sequence owes a big debt to the set-pieces in Finding Nemo. The Anti-Villain League is still a little too close for comfort to Austin Powers, but the film doesn't dwell on that to such an extent that it becomes a problem. In the same vein, the minions' island is akin to the Village in The Prisoner: its inhabitants are drugged and kidnapped to get them there and are then kept in a state of continuous contentment to prevent rebellion. And, of course, there are big hints of Dr. Jekyll and Mr. Hyde in the transformations and creation of the 'evil' minions. While the transformation scenes are nothing like as gripping or as tactile as those in Wallace & Gromit: The Curse of the Were-Rabbit, it was a stroke of genius on the writers' part to have jam as the antidote. This brings us on to the set-pieces in the film, which are bigger in scale than the original and are marginally better-executed. There's always the temptation with a bigger budget to increase the physical scale without matching the emotional or narrative stakes, but the film does just about enough to stop things getting out of hand. Without the cute nature of the minions, much of the last 10 or 15 minutes would fall completely flat, and with them on board as comic relief the film avoids merely pandering to the clichés of the Bond series. Certainly the set-pieces like this help to disguise some of the film's narrative shortcomings. While its plot has more legs than the first film, certain sections still feel a little laboured or drawn out. The opening sequence at the birthday party, the scene in the wig store and some of the scenes with Agnes being hit on could have been slightly trimmed, with Steve Carell becoming a little too freeform in the first instance and the material not being strong enough on its own to carry the others. This brings us onto the voice casting, which is generally very good. Carell and Russell Brand both continue to impress in their roles, with both performers reining in their wilder, more indulgent aspects and taking their characters on just a little bit. Wiig is very funny as Lucy Wilde, occasionally coming across as a Saturday Night Live show-off but mostly playing it cool and coming off as likeable. When it comes to the young girls, however, the results are more of a mixed bag. Miranda Cosgrove, who first came to prominence in School of Rock, is very adept as Margo, and Elsie Fisher continues to be cute and fun as Agnes. But middle child Edith has very little to do, with Dana Gaier getting the lines that nobody elses wants to say and not making very much of them. Having her as a tomboy is all well and good, but the film also makes the curious decision to make her obsessed with weapons. Like Judge Reinhold's character in Beverly Hills Cop II, it's a change that comes from nowhere and makes little sense. The visuals of Despicable Me 2 are pretty pleasing on the eye. It retains the bright colour palette of the original, though with a more consciously pantomime or comic-book feel to take account of the villain's personality. The characters still have a balloony or rubbery quality to them, but this mainly serves to benefit the slapstick rather than making it difficult to bond with the characters. It's still not up there with the best of PIXAR or Dreamworks, but neither are these aspects overbearing and distracting. Despicable Me 2 is a marginal improvement on its predecessor, having better and funnier jokes structured around a more successful plot. While it still falls short of the standard set by PIXAR, being neither as memorable nor as original as it could have been, it still succeeds as a pleasing, light-hearted diversion with a number of good performances. One only wonders whether the Minions spin-off due out next year will be able to sustain this momentum.
Daniel Mumby
Super Reviewer
Despicable Me 2 Quotes
There are no approved quotes yet for this movie.