Desperately Seeking Susan
(1985)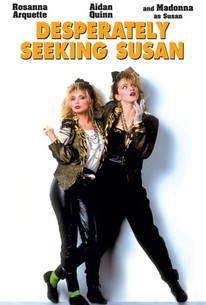 TOMATOMETER
AUDIENCE SCORE
Critic Consensus: Desperately Seeking Susan works with its fairy tale depiction of New York and the fun, frothy chemistry generated by its two leads.
Desperately Seeking Susan Videos
Desperately Seeking Susan Photos
Movie Info
A petite New Jersey housewife finds self-fulfillment through amnesia in this new wave comedy of errors set in New York's hip '80s downtown scene. Rosanna Arquette stars as Roberta, who turns to the personals for vicarious thrills after her four-year marriage to staid hot tub salesman Gary (Mark Blum) grows stale. Her favorite classified ads trace the romance of Jim (Robert Joy), a struggling musician, and Susan (Madonna), a SoHo vamp who's just narrowly escaped being murdered alongside one of her other boyfriends -- a gangster who recently stole some Egyptian jewelry. Through a series of complicated missteps, Roberta ends up losing her memory and convincing both herself and a broodingly handsome young man named Dez (Aiden Quinn) that she's the elusive, adventurous Susan. Soon, Roberta finds herself being romanced by Dez and pursued separately by her husband, Jim, Susan, and by a murderous mobster who's looking for the stolen jewels. For her second feature outing, which was partially inspired by Jacques Rivette's Celine and Julie Go Boating, director Susan Seidelman filled her cast with hipster extras, downtown personalities, and New York thespians. Notable faces include comedian Steven Wright; future indie mainstay John Turturro; future TV stars Michael Badalucco and Laurie Metcalf; punk singer Richard Hell, who also starred in Seidelman's Smithereens; and performance artist Ann Magnunson, who would star in the director's Making Mr. Right. The big dance-club sequence was filmed at Danceteria, the disco that helped launch Madonna's career. The scene, and the film, helped propel "Into the Groove," one of the singer's all-time club classics, into the charts even though it was actually a b-side to the single "Angel." ~ Brian J. Dillard, Rovi
News & Interviews for Desperately Seeking Susan
Critic Reviews for Desperately Seeking Susan
Audience Reviews for Desperately Seeking Susan
The full five star rating for this one as it is a movie I loved when I was about 11 and Madonna was my all time favorite singer (that changed two albums in when she became crap, but anyhow, at this stage she could do no wrong). This is the perfect role for Madonna - I guess because she pretty much plays herself. A bit obnoxious, and willing to use her sexuality to get her own way (I never realized how much of this movie she spends in her bra until I re watched it last night. Rosanna Arquette, also perfect here. She is the more relatable character of the two. Still very attractive, but lacking Susan's confidence, which I guess it's so great that it ends as it does. Won't go on too much as I am sure most people have seen this one by now, but if you haven't, it is pretty much the ultimate chick flick and full of great 80's fashions to top it off.
Nicki Marie
Super Reviewer
characteristics of some action thriller or eighties mainstay. Even with Madonna's star power it isn't some icon in pop culture or memorable flop. This was originally some star making oppurtunity for Rosanna Arquette, who is the main character of this film. Her character is the dullest of everyone, not respressed, not uber religious, and she doesn't have any attributes that would suggest rebellion other than blandness. Her husband at least cheats, lies, and does drugs. Madonna's character is also boring, but in the out of place misfit way. The only main difference in her compared to everyone else is her attire, which was out of place next to the yuppie moneybags of Wall Street, but by 1985 had gone mainstream. Madonna does some of her worst acting here, not that she was that great an actress to begin with. The plot is so obvious and banal, and right when I thought they would go somewhere else with it, it faltered and died. The mistaken personality gambit was just as cliched as ever, and nothing new came of it. The only deciding factor in a person's enjoyment of this was the charm of nostalgia, the soundtrack and clothes and blithe attitudes of the disenfranchised was such a trip down history lane. Madonna really clinches it, but it doesn't hurt that extras included John Turturro, Steven Wright, Laurie Metcalf. The best aspect is the relationship between Rosanna Arquette and Aiden Quinn, the unknown hipster love interest of the nineties, ala Benny and Joon. It was quirky, cute, and extremely sweet, but doomed from the start.
Spencer S.
Super Reviewer
Mistaken identity and amnesia cause a plain housewife to trade lives with a mercurial punk rocker. I think the draw of this film is the cultural milieu it captured. The 80s punk scene is personified by Madonna's Susan, and I can see why some would find the depiction appealing. After all, such counter-culture movements were, and are, portrayed in negative terms, and there's no judgment in this film: infidelity, random sexual escapades, and a odd fashion sense are all upheld. If anything, the establishment is the villain. But the film is a pile of stinking cliches. Amnesia and mistaken identity are about the oldest ploys I can think of, and it's not hard to predict who ends up with whom. And Madonna's performance doesn't evince a real character, a complete person; rather, she's just a stand-in for the cultural movement she represents. Overall, Desperately Seeking Susan, a title that makes me want to defend adverbs, is a film-by-numbers cliche, but there are a few minor redeeming qualities.
Jim Hunter
Super Reviewer
Desperately Seeking Susan Quotes
There are no approved quotes yet for this movie.