Denial
(2016)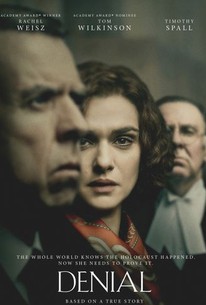 TOMATOMETER
AUDIENCE SCORE
Critic Consensus: If Denial doesn't quite do its incredible story complete justice, it comes close enough to offer a satisfying, impactful drama -- and another powerful performance from Rachel Weisz.
Movie Info
Based on the acclaimed book History on Trial: My Day in Court with a Holocaust Denier, DENIAL recounts Deborah E. Lipstadt's (Academy Award (R) winner Rachel Weisz) legal battle for historical truth against David Irving (Cannes Award winner Timothy Spall), who accused her of libel when she declared him a Holocaust denier. In the English legal system, the burden of proof is on the accused, therefore it was up to Lipstadt and her legal team to prove the essential truth that the Holocaust occurred.
News & Interviews for Denial
Critic Reviews for Denial
Audience Reviews for Denial
½
With exceptionally fine actors, this film should have been much better -- and certainly should have been more compelling. Poor cinematography and perhaps too much historicity left the taste of a drab legal case lacking the human element necessary for effective drama.
Christian C
Super Reviewer
½
Finally a movie that tells a riveting (true) story with actors who know their craft. In my top 3 for 2016. Rachel Weisz was tenacious and Spall was terrifying. (10-23-16)
½
MEL GIBSON'S DAD IS A DICK - My Review of DENIAL (3 1/2 Stars) Ahhh, movies with a pedigree. The ones with top shelf actors and A-list above-the-line creatives. The ones with a social issue axe to grind. Remember those? Well, let me introduce you to DENIAL, the kind of film Hollywood rarely churns out anymore. The kind I refer to as the LET'S BAIT THE JEWS ON CHRISTMAS MOVIES, and as a Jew who usually eats Chinese and looks for anything starring Barbra Streisand on December 25th, I can expertly attest to the fact that this film fits that niche perfectly. Combine veteran director Mick Jackson (THE BODYGUARD, LA STORY, TEMPLE GRANDIN), legendary writer, David Hare (THE HOURS, THE READER) and Academy Award winning actor, Rachel Weisz, who, along with THE LOBSTER, is killing it in 2016, add a Holocaust theme and you can't miss with my tribe. Weisz plays Deborah Lipstadt, author and lecturer, who was sued by Holocaust denier, David Irving, claiming she ruined his credibility and his career. The catch is that Lipstadt, an American, had to stand trial in England, Iriving's home. Assigned to a Solicitor (Andrew Scott, so great in PRIDE) and a Trial Attorney (Tom Wilkinson), Lipstadt is a true fish out of water who must quickly learn that her very prominent voice may be squelched in order to be absolved of the charges against her. DENIAL serves as a passionate and talky chamber piece which examines both sides of the Holocaust debate, and while it's done very well, there's no question whose side we're on. What I found infinitely more interesting is the deep dive we take into English law. Hampered by a maudlin, TV movie score by Howard Shore, who usually does much better work, and warm but somewhat generic cinematography by Haris Zambarloukos, DENIAL works best as a rousing look at the cost of justice. Late in the film, Lipstadt faces what she has to deny in order to win, and it's a stunning piece of dialogue. No surprise, since David Hare knows how to craft a dramatic scene better than most. Weisz perfectly embodies her character, who, while filled with passion, isn't afraid to be a tad self-righteous and annoying. Weisz plays her as a New York Jew, and yet she manages to avoid stereotypes while also allowing her some flaws. Not enough if you ask me. In the first act, there's a hint of hubris that doesn't get explored as much as I would have liked. I enjoy lead characters who lack perfection, and Lipstadt comes across as a warrior with a heart of gold. Here's a woman who has little reason to trust her legal team, yet learns to let go a bit. It's a great dynamic for a legal drama. Give us a little more prickliness and I would have been more gung ho. So much of DENIAL reminded me of TRUTH, the Dan Rather expose starring Robert Redford and Cate Blanchett. Both films lean towards the preachy and overstated, yet I enjoyed DENIAL more. There's real fire and passion on display. Timothy Spall could have dialed back the sourness of his character's demeanor here and there, but he proves completely charming when initially meeting the lawyers. Wilkinson brings so much richness to what could easily have been a stock character. But this is Weisz's movie and she exudes a mesmerizing confidence. Additionally, one stunning sequence totally won me over. On an exploratory trip to Auschwitz in order to truly understand the layout, the scene starts with an excruciatingly long high and wide shot of the camp. We hold on this shot in order to absorb the scale and magnitude of the place. It's in these scenes where I felt the film became a real movie. Otherwise, this is a dialogue-heavy, extremely didactic, filmed play, a good one, but not the most cinematic experience you'll ever have. Take a break from the Michael Bay experiences, however, and you may find yourself richly rewarded.
Glenn Gaylord
Super Reviewer
Denial Quotes
There are no approved quotes yet for this movie.