Den of Thieves
(2018)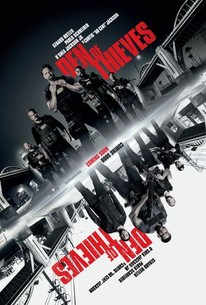 TOMATOMETER
AUDIENCE SCORE
Critic Consensus: Den of Thieves pays energetic homage to classic heist thrillers of the past; unfortunately, it never comes close to living up to its obvious inspirations.
Movie Info
Every day, $120mm in cash is taken out of circulation and destroyed by the Los Angeles Branch of the Federal Reserve - unless a notorious, elite crew of bank robbers can pull off the ultimate heist and get to the money first... right under the noses of LA's most feared division in law enforcement.
News & Interviews for Den of Thieves
Critic Reviews for Den of Thieves
Audience Reviews for Den of Thieves
½
For a movie that's basically just Heat, Heat this ain't.
Admirable is a word one might use to describe Den of Thieves. One can feel the ambition of writer/director Christian Gudegast (in his directorial debut) seeping through his extravagant and admittedly enthralling screenplay that intends to put a million things in motion only to be utilized as ideas around the repercussions of the movie's main throughline. Both a crime drama and heist film, Den of Thieves does what it sets out to do well even if Gerard Butler looks like he's about to have a heart attack at any given moment and poses no real threat to Pablo Schreiber's more imposing and charismatic Merrimen who leads the titular thieves in what is a more labored and methodical plot than one might initially give such a movie as Den of Thieves credit for. This is the kind of movie where expectations work in favor of the final product as all of the promotional material for this thing would point to it being nothing more than a direct-to-Redbox dumpster fire, but when it turns out to be something even slightly resembling a thoughtful, weighty, and often times thrilling action/drama Den of Thieves rises to be a satisfying if not slightly indulgent trip to the cinema. O'Shea Jackson Jr. is definitely a movie star, though.
Philip Price
Super Reviewer
I admittedly had not even heard of Den of Thieves before a month or so ago. It's not like I'm seeking out every Gerard Butler movie out there anyway. However, Den of Thieves proved to be a film that will take more than a day or two to forget. And for a January release, I'd say that's an accomplishment. This is far from an A-movie action film. It doesn't have a ton of levels of direction, acting, or writing. In fact, it's mostly a beat for beat remake of Heat, with De Niro & Pacino. But sometimes all I want is to enjoy some well-shot and heart pumping action sequences with some inconsequential thrills along the way. Den of Thieves give me just that, and surprisingly a couple chuckles as well (whether they were intentional or not). The highlight of the movie is clearly Butler's "Big Nick" Flanagan (or is it O'Brien? I honestly don't remember and I've seen conflicting answers online) and his back and forth with Pablo Schreiber. The latter is quietly building himself a solid career with this, American Gods, and his upcoming film with Damien Chazelle. Watch out for this guy. But he's very entertaining, as is Butler, flexing their muscles and manhood all the way through this Heat rip-off heist thriller. Seriously though, this movie is literally Heat. However, it's worth noting that just because this film lacks originality, doesn't mean it lacks in quality. Albeit definitely 20 minutes too long, it's hard to think of a better action film from January that I can remember. This is most certainly a 5.99 blu ray bin purchase this summer. 6.9/10
Thomas Drufke
Super Reviewer
Den of Thieves Quotes
There are no approved quotes yet for this movie.