Delta Farce
(2007)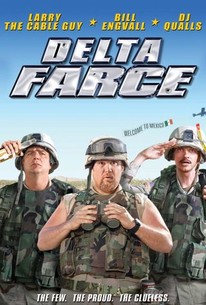 TOMATOMETER
AUDIENCE SCORE
Critic Consensus: Too afraid to be a real satire of the Iraq War, Delta Farce instead devolves into a reprehensible, unfunny mix of slapstick, gay panic, and flatulence jokes.
Movie Info
When a hard-luck blue-collar worker and his two best friends are mistaken for Army Reservists by a tough-talking Army sergeant, the plane set to fly them to the front lines of Iraq mistakenly drops them in the middle of Mexico to disastrous results in a freewheeling military comedy starring Larry the Cable Guy, Bill Engvall, and D.J. Qualls. Larry (the Cable Guy) has lost his job and his woman in the short span of 24 hours. Convinced that some suds and target shooting are just the right remedies for a broken, jobless heart, Larry sets out with his next-door neighbor Bill (Engvall) and their trigger-happy pal Everett (Qualls) in order to blast off some rounds and down some brews. Their relaxing weekend soon takes an unexpected turn, however, when hard-case Army sergeant Kilgrove (Keith David) mistakes the trio as slacking Army reservists and loads them in a plane bound for Fallujah. Subsequently air-dropped over Mexico due to pilot error, the clueless, wannabe war heroes become convinced that they're actually in the Middle East and set out to save a rural village from what they assume to be an insurgent uprising. Though the thankful locals champion the noble but dimwitted trio for their heroism, the celebration is short-lived as ruthless warlord Carlos Santana (Danny Trejo) pays a personal visit to the town with a plan to confront the fearless warriors who dared to challenge his iron-fist rule. ~ Jason Buchanan, Rovi
News & Interviews for Delta Farce
Critic Reviews for Delta Farce
Audience Reviews for Delta Farce
½
Hey, it's meant to be a stupid comedy, so slam it as much as you wish! It had me laughing. It's as good as the Three Amigos and Machete, which I consider to be great comedies. There's a fair amount of Mexican, gay, military and toilet jokes in this Farce. I'm a fan of Larry the Cable Guy, though he shares the lead with the two other guys Bill Engvall and DJ Qualls.. The movie moves along at a nice pace. It's great seeing Danny Trejo as the funny badguy Carlos Santana. Nobody really gets hurt in this. I wish Lisa Lampanelli had more screen time as the nagging wife. The songs and musical score are actually quite good. It was fun overall, and I'd watch it again.
Lafe Fredbjornson
Super Reviewer
Delta Farce has got to be the most awful, shallow, poorly constructed comedy film ever made. This is a film that makes every Pauly Shore film look like classics by comparison. You know right from the start that the cast for this horrid train wreck will not be good when you have Larry The Cable Guy, a comedian who's become so unfunny, so quickly that people now realize how primitive his style of comedy was. With Delta Farce, the filmmakers basically took, Larry The Cable Guy's one trick comedy routine and made an hour and a half long minute out of it. Truly original. Sounds like something that Pauly Shore did with every one of his films, at least no matter how bad the films were; he did manage to give me a few chuckles. But with Larry The Cable Guy, he's just too painful to watch on screen. I don't like his work, and I think he should retire from the comedy business. The guy was maybe funny for a year or so, but now he's yet another pointless comedian. Delta Farce is a painful comedy that is so poorly written and acted that you wonder how this trash could be green lit and shown in theatres. Oh well, they'll market anything to make a quick buck.
does not deserve a review
Coxxie Mild Sauce
Super Reviewer
Delta Farce Quotes
There are no approved quotes yet for this movie.