Delirious
(1991)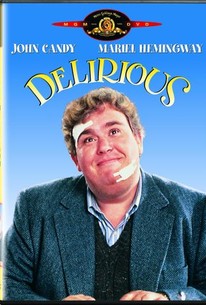 Movie Info
When a soap-opera scriptwriter (John Candy) is knocked out after an accident, he wakes in the fictional city where his soap is set. Unsure whether he is dreaming or being punished by a Dantean scheme of hell, he plays along with the set-up and later finds that frequent returns to reality allow himself to write the script he later acts out.
Critic Reviews for Delirious
All Critics (9) | Top Critics (1) | Fresh (4) | Rotten (5) | DVD (2)
It appears as though Mankiewicz wanted to conduct his own triumphant slapstick symphony with Delirious. He just brought the wrong sheet music to share with his cast.
John Candy goooooood!
October 19, 2003 | Rating: 4/5
Excellent comedy. Really plays the soap opera and magic typewriter gimmicks to the fullest.
July 25, 2003 | Rating: 4/5
Audience Reviews for Delirious
½
I don't know if it's obvious, but it should be if you know me, that I'm not a big fan of soap operas. I'm not taking anyone who enjoys this form of entertainment to task for, you know, enjoying them. Life is hard enough as it is without me shitting on people for enjoying what they enjoy. Having said that, while I can get the appeal of rich people (ala Dallas or Dynasty) being involved in salacious and melodramatic stories involving affairs, illegitimate children, brain tumors, deaths, murders, etc, etc, etc, it's just not for me. That's not saying that there can't be soapy movies that I find enjoyment in, it just has to be done right. And, to me, a lot of soap operas just aren't well-written enough to truly interest me past a passing glance. With that said, however, I do like seeing how the genre is parodied in films like Soapdish, Casa De Mi Padre, which spoofs overly dramatic telenovelas, which I am wildly familiar with, having grown up in a house of women. And then comes a little movie called Delirious and, quite honestly, I am not sure how I should feel about this. I think I've made it clear across my reviews that I'm a fan of John Candy. I'm not gonna sit here and say that he was the best comedic actor, but when he was on, he was really on. Like in Uncle Buck or Spaceballs. And that's not to say that was bad when he wasn't on, but you could sort of tell the difference between inspired Candy and uninspired Candy. And this movie sort of falls somewhere in the middle of that. I'll be honest, I love the concept for this movie, I really do. It's not necessarily that different from, say, a movie like Groundhog Day, which came out two years after this one. It's not that Jack, Candy's character, is reliving the same day, but he, like Murray's character in the movie, is able to manipulate the situation he finds himself in, given that his magic typewriter allows him to write stuff that then plays out in 'real life'. Similar to Murray where, since he lived through the same day over and over again, he could manipulate events to his favor, making himself look more favorable to this woman he's trying to impress. Regardless, I do think there's some potential here for some really funny stuff. And, here's the thing, the movie has some, surprisingly, really funny secondary characters that make parts of the movie quite a lot of fun to watch. But then you pair that insanity with Candy's character writing himself into scenarios where, again, he plays the hero to the woman he loves (or thinks he loves), to impress her while not realizing that there's a woman who's falling for him despite the fact he's not manipulating things between them. Honestly, it just wasn't that interesting, the romantic subplot. But everything that's happening around Jack Gable, Rachel and Janet, were actually the best parts of the film by a country mile. The stuff with Paul, the doctor, Ty, Blake, who's being poisoned by his own sister through Paul, and Blake Wagner's cameo is so entertaining that I wish these characters were a far more integral part of the movie, instead of just ancillary characters whose input, really, isn't that important to where the film's main narrative and the direction it wants to go in. And that's why I feel that the movie it's at odds with itself. It wants to be be a silly and goofy parody of soap operas, but it also wants to be a broad rom-com. Honestly, I don't think you can have it both ways in this case. I mean, really, I guess you could if you're a particularly skillful screenwriter. But, if you saw Casa De Mi Padre, try to imagine that movie and its absurdist and incredibly serious movie, but then they actually tried to tell a romance story. It wouldn't have worked, right? Because the goofiness doesn't mix with an earnest story. Not saying it can't be done, I'm just saying that this movie didn't do it. And that's why this movie gets the rating it does, it's constantly fighting against itself as to what it wants to be. That identity crisis ends up minimizing the impact of the memorable and hilarious secondary characters. The romance subplot with Jack and Janet (a fictional character he created, but bases on a real life person he knows that was going to audition for his soap) doesn't really work because, to me, there doesn't seem to be much chemistry between Jack and Janet. I wouldn't have really had much of an issue if they attempted to use this broad rom-com structure if the romance at its core were believable, but it's not. The sparks don't exactly fly between John Candy and Mariel Hemingway. Individually, they're not bad, but there's just nothing between them. I feel that that makes the disparity between the two things the film wants to be even more obvious. It is what it is, but I can't help but feel that this really could have been something more than it ended up being. Of course, that wasted potential ended up helping out Groundhog Day, since they, while not parodying soaps, properly used a relatively similar concept and it led to one of the more enduring comedies, not just of the 90s, but of all time. Who doesn't love Groundhog Day? If someone says they don't, then that person is a bold-faced liar. Imagine if this movie had the same care put into it and, more importantly, the talent behind-the-scenes, and how funny it could have actually been. I don't think it would have come close to enduring as much as Groundhog Day has, but it would have been something a lot different, and better, than what we got. I suppose the one question I have, to someone who likes this movie, is if you felt that the movie fully lived up to its potential. I feel that it didn't. But that's just me. And that's a shame because, again, there's a lot of stuff about this movie that I REALLY fucking like. Yet I don't feel comfortable saying that this is a good movie as a result of some a boring main narrative. This is still a decent movie, even solid if watched in the right mood, but this should have been more. It shoulda been a contender!
Jesse Ortega
Super Reviewer
John Candy ends up in a world of his own creation in Delirious. The film follows a writer for the daytime soap opera "Beyond Our Dreams," and through happenstance he ends up getting stuck in his own show. Co-staring Mariel Hemingway, Raymond Burr, and Robert Wagner, the film has a solid cast. However, it's Candy's charisma that carries the film and sets the tone. Still, the writing's rather smart and provides some good satire on soap operas while delivering over-the-top comedy that works really well. But as good as the humor is, it all sort fizzles out in the last act. Delirious has its problems, but it's also a lot of fun and is full of laughs.
Dann Michalski
Super Reviewer
As the title suggests, Delerious is a completely off the wall story, it?s certainly original but quite silly. Maybe worth a watch on tv, if you can?t find anything else to watch!
Lady D'arbanville
Super Reviewer
Delirious Quotes
There are no approved quotes yet for this movie.