The Deep End
(2001)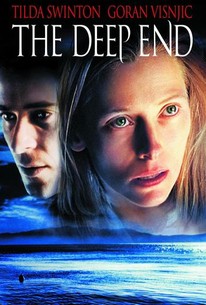 Movie Info
A mother is drawn into a sinister web of blackmail while trying to protect her son in this drama. Margaret Hall (Tilda Swinton) is a wife and mother of three living in Lake Tahoe, whose husband is a Naval officer stationed in the Atlantic ocean. Margaret's oldest son, teenaged Beau (Jonathan Tucker), is gay and has become involved with Darby (Josh Lucas), a disreputable older man whom Margaret does not trust. Margaret confronts Darby and tells him to stay away from her son, but Darby isn't easily dissuaded, and he comes by the house late one night, leading to a fight between Beau and Darby. The next morning, Margaret discovers Darby's body on the beach, with an anchor piercing his chest. Not sure what to do, Margaret hauls Darby's body out to sea, and dumps it where she hopes it will not be found. Margaret tries to get her life back to normal, until a man named Alek (Goran Visnjic) appears at her door. Alek appears to know something about Darby's death, and he definitely knows about Beau's relationship with him; in fact, he has a videotape of Beau and Darby having sex, and he's prepared to make it public unless she'll pay him $50,000. Margaret is in no position to pay the money, but is desperate to protect her son and attempts to reason with Alek. Surprisingly enough, in time it works, and Alek withdraws his request for blackmail money. However, Nagle (Raymond Barry), a local crime boss whom Alek works for, is not nearly so generous. The Deep End was adapted from a novel by Elizabeth Sanxay Holding, The Blank Wall, which was previously filmed by Max Ophuls as The Reckless Moment. ~ Mark Deming, Rovi
News & Interviews for The Deep End
Critic Reviews for The Deep End
Audience Reviews for The Deep End
½
Despite the riveting plot summary, the only things that rescue "The Deep End" from being bland are Tilda Swinton's strong performance as a terrified, desperate mother and a somewhat interesting music score. Otherwise, it's dime-a-dozen weekend afternoon TV fare.
Christian C
Super Reviewer
½
Tack up another winner for Tilda Swinton! She is an actress that never ceases to astound me. She is such a dominating force onscreen, but she never over acts or overdoes it. The story is really anything new, but amazingly enough its actually pretty confincing. The whole end with Goran Visnjic's character was a bit far-fetched, but everything else seem completely plausible. That is not something that happens very often in Thrillers. Its tense and desperate, Swinton's role almost reminded me of Mellisa Leo's in Frozen River. It pretty visual, and there are some noir touches. I would not say that "The Deep End" and extraordinary or amazing, but it is really good. I was held captive through just about the whole thing, and that does not happen all that often- even with movies I like.
½
Beautifully shot film. A fairly predictable story, made interesting by a great cast and solid performances. In an attempt to save her son from an "unsavory" relationship, Margaret (Swinton) unknowingly sets in motion a chain of events that slowly puts her entire family at risk. And perhaps more interestingly puts her in a positon to better understand how we are sometimes attracted to people who we know are bad for us. Swinton is (as usual) amazing!
The Deep End Quotes
There are no approved quotes yet for this movie.